Eight themed groves make up the Penn State Mont Alto Arboretum.
The Arboretum at Penn State Mont Alto is hard to miss – the trees that constitute the campus arboretum are everywhere! They are a beautiful testament to the campus' roots as the Pennsylvania State Forest Academy. Today, the arboretum at Mont Alto is a special place of learning and instruction used by students, faculty, and industry professionals from around the region.
For many, the arboretum is Penn State Mont Alto because it has a wonderful influence on all we do and see.
Unique opportunities exist for alumni and friends of Penn State to financially assist in the continued preservation of Mont Alto's arboretum by sponsoring groves of trees or individual trees to honor a donor or a donor's loved one. This financial underwriting goes into a permanent endowment that will support the arboretum for generations to come. Available sponsorship opportunities include the following:
Grove of Trees
$50,000 Gift
A themed grove may be permanently named with a gift of $50,000. Each year, 4.5% of this endowment will be used to upgrade and care for the grove while sustaining the grove's health and diversity. Once a themed grove is endowed, additional hardscape features will provide more naming opportunities within the Grove with gifts from $25,000 – $50,000.
Founder's Tree
$5,000 Gift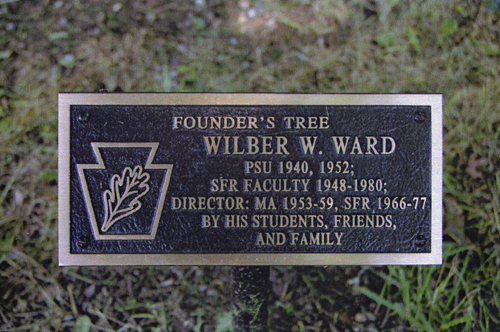 Select mature tree specimens may be permanently named. This gift becomes part of the arboretum endowment.
Planting of a Commemorative Tree
$1,000 Gift
Planting a Commemorative Tree from our "tree wish list" is the easiest way to assure the Arboretum will remain diverse and healthy.
Penn State Mont Alto Volunteer Arboretum Advisory Council
Made up of alumni, foresters, industry professionals, and campus administration, the Council works closely with the University to maintain the arboretum, make recommendations on plantings, and plan for tree removals and hardscape additions.
Arboretum Giving Opportunities
Permanent naming of a themed grove $50,000
Permanent naming of a new hardscape feature $25,000 – $50,000
Permanent naming of a mature Founder's Tree $5,000
Planting of a Commemorative Tree from the Arboretum Planting List $1,000
Ways to Give
All contributions to the Penn State Mont Alto Arboretum are 100% tax deductible. Gifts of any size may be made with cash, check, credit cards or stock.
Make checks payable to:
Penn State University
(memo: Arboretum)
Gifts may be mailed to:
University Development
Penn State Mont Alto
1 Campus Drive
Mont Alto, PA 17237
(717) 749-6110