Sophia Wallace is an American conceptual photographer and videographer who was born in Seattle, Washington in 1978 and now currently lives in Brooklyn, New York (http://www.sophiawallacephotography.com/#info). She went to the University of Ghana in 1998 for studying abroad opportunities in African Politics and Smith College in 2000 where she received her Bachelor of Arts in Government and African American Studies. In 2005, she received her master of arts in photography at the New York University and The International Center of Photography.
She has quite an impressive, expansive, and diverse resume for a young artist, including group exhibitions, solo exhibitions, awards, publications, and lectures. Of her many group exhibitions, some of interest to me include KUNSTHALLE Wien Contemporary Museum in Vienna, Aperture Gallery, Colgate University's Clifford Gallery, The Assembly Room in London, Carnegie Art Museum, and the Australian Centre of Photography. Her solo exhibition 'The New Masculine' in November of 2010 took place at the Leslie-Lohman Gallery in Soho, New York. Select awards include PDN's Curator Award, Critic's Pick by the Griffin Museum of Photography, American Photography AP-25, and ARTslant's Showcase Award. She is also a 2012 Van Lier Fellow in the Art Law Residency of Volunteer Lawyers for the Arts.
In comparison with the readings for this week, I saw a very strong correlation to the way that Sophia Wallace addresses issues with the body, sexual expression, sexual violence, and gender issues today. As mentioned in the "Bad Girls" chapter from the Reckoning, "questions about women's control over their bodies, sexual expression, and complicity with sexual violence remain deeply divisive and controversial".
---
Sophia Wallace is probably most recently known for her Cliteracy artistic movement which, in summary, addresses issues of sexual violence, citizenship, the body, and sexual illiteracy. An installation spanning 10 feet by 13 feet and including a 6 foot neon sign, CLITERACY, 100 Natural Laws became a platform of advocacy for future work by Wallace.
"Cliteracy", as Sophia Wallace explains is a "project that explores a paradox; the global obsession with sexualizing female bodies in a world that is illiterate when it comes to female sexuality." She further explains the project, saying, "It confronts a false body of knowledge by scientists who have resisted the idea of a unique, autonomous female body and rather studied what confirmed their assumption that women's anatomy was the inverse of male anatomy, and that reproduction was worth a study, while female sexuality was most certainly not…The clitoris is exponentially lager and more complex than commonly thought."
The project seeks to raise awareness, to get people to talk about the clitoris, and to show female organs as important and not taboo elements. CLITERACY, 100 Natural Laws installation was completed during Sophia Wallace's Van Lier Fellowship in the Art & Law Residency. According to it's website, the Art & Law Residency in which Wallace participated, "provides an intellectual and artistic setting for participants to engage in ongoing discussions and debates that examine the overlap and disconnect between artistic production and the law from historical, social, ethical, and intellectual standpoints."
CLITERACY, 100 Natural Laws, 2012, 10 x 13, mixed media installation
Through the Cliteracy movement project, Sophia Wallace created many sub-projects supporting the same idea; it was a long-term project. Give Me to the Wind is one of those projects. The mural is 5 feet by 15 feet, painted live over the course of 5 hours at the Art Basel Miami. The mural depicts portraits of various women who have experienced sexual violence, ultimately being punished for their efforts to leave the situation or seek help for themselves. For example, one portrait depicts Reyhanneh Jaybarri who was hanged in Iran in 2014 after killing her rapist in self defense. Wallace based the portrait on a last letter that Reyhanneh wrote to her mother before she was executed.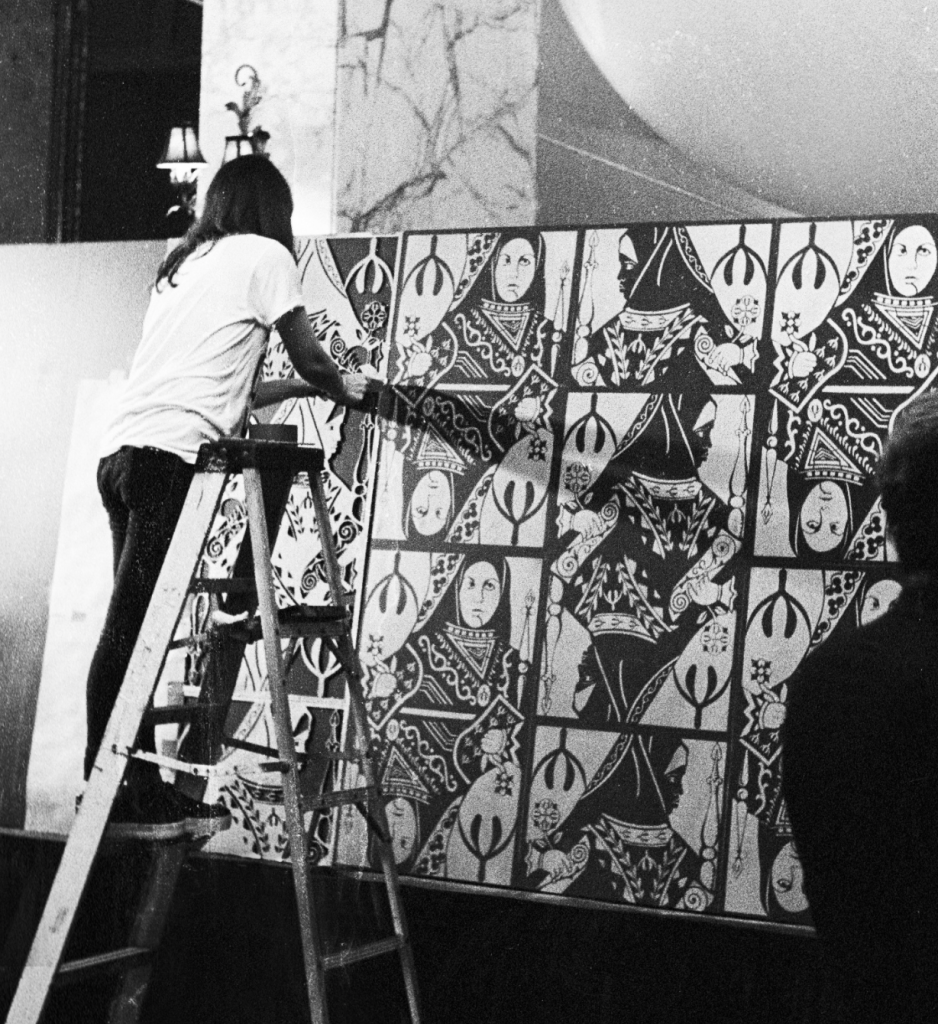 Give Me to the Wind, performance painting
I WANNA BE ADORED, 2014, site specific installation at Definitely Superior Gallery, gold and red acrylic, 23 x 9
Fleur De Clit, solo exhibition at Definitely Superior Gallery, 2014
DEMOCRACY WITHOUT CLITERACY PHALLUSY, Natural Law No. 47, 2013, Vinyl, billboard
The Clit Rodeo, 2013, interactive performance by Sophia Wallace and Kenneth Thomas
Street art to promote the Clitoris movement
---
Berlin Lookbook, 2009
At first glance, the Berlin Lookbook appears to be an advertising campaign. Instead, the series brings about awareness of the narrow confines of conventional femininity as aesthetically compelling and desirable. This series explores Sophia Wallace's further interest in the construction of gender and representation.
Wallace explains the project: "My objective was to intervene in the common dismissal of genderqueer imagery, particularly non-normative felinity. The specificity of urban context is vital as Berlin as one of few cities in the world where female masculinity is a prominent visual presence."
---
Girls Will Be Bois, a documentary of female masculinity from an insider perspective, 2002-2007
Sophia Wallace explains this project, "The subjects in this series present a non-normative femininity and thus don't have the ability to 'pass' as straight women or even as lesbian sex objects and thus confront homophobia along with class distinctions, racial prejudice and sexism in a unique combination and on an ongoing basis."
Inspirations for the production of this series came from the story about Sakia Gunn, a 15 year old black lesbian from Newark, NJ who was stabbed to death after rejecting a man's advance. After her death, the media neglected the telling of the story. It was even noted that it took an extremely long time for Gunn's murderer to be traced. Wallace explains the difficulties and struggles of young lesbians as they experience forms of harassment and sexual violence because of their choices and violations of gender norms.
---
Truer, 2008-2009, series of photographs which document Wallace's same sex relationship over seven months
"Queer narratives- particularly of women- have existed within a structure of systematic censorship. The record of such lives can be found most notably in their absence."
Truer is a record of showing the ubiquitous fiction of queer narratives. Wallace incorporates knowledge of art historical notions of the male spectator discussed by Berger. This series disrupts the male gaze, in hopes of supporting those who seek out these fantasies. Wallace was not only the artist documenting this story, but she was also a subject, an active participant of the narrative.
"As author and subject, I utilized gesture, eye contact, queer signifiers, and obscuring while showing, to share this very personal story while at the same time conveying a boundary that holds our complexity as subjects and refuses to flatten into objects."
In conclusion, Sophia Wallace is the epiphany of, in my opinion, a contemporary "Bad Girl" visual artist. Her projects are not only relevant to women today, but to herself as well, supporting and speaking for the awareness of issues involving sexual literacy, sexual violence, the body, sexual exploration, and gender norms. As stated in the Reckoning, "Bad Girls" chapter, "women artists [in the 21st century], are less afraid of creating work that states the appetites of the straight male viewer and gender identity has become more fluid with acceptance of gay, lesbian, transgender, and bisexual rights." Through the medium of photography, Sophia Wallace is able to project a very realistic aesthetic to these issues today, that need to be addressed and discussed. Sophia Wallace, a very awarded contemporary woman for her efforts in the art world, is addressing very contemporary issues today. With her expansive academic background in government, law, and culture studies, Sophia takes a very true and researched stance against feminist concerns today.
---
For further references (links and videos): 
The Clit Quiz-
http://projects.huffingtonpost.com/projects/cliteracy/culture
http://www.sophiawallace.com
http://sophiawallace.tumblr.com
http://www.theguardian.com/commentisfree/2014/may/16/art-gender-artist-sophia-wallace-interview