This weekend, Essence is performing at the American Choir Director's Association's annual conference in Baltimore.  It's an honor to be selected to perform at this conference, even more so for Penn State because the Glee Club was also selected to perform.  The last time two groups from the same university were selected to perform was 15 years ago, and they were from Harvard.
Of course, all of this soared over my head, because as a freshman it's all I can do to keep up.  We arrived in Baltimore on Thursday afternoon, and had to do a soundcheck tonight (as I write this) for our performances tomorrow.  The concerts take place, not in a convention center, but in Churches and Cathedrals scattered around the city.
It is an oddly amazing feeling to go into a church, cathedral, or other gathering place in a city.  I have always loved the way, as you walk in the front door, the city fades away and you enter a magnificent and beautiful place that is both quiet and peaceful.  It just so happens that we will have the opportunity to perform in such a place tomorrow.
Old Saint Paul's Church
Is located just a few blocks away from the Inner Harbor.  The Church itself was founded in 1692 as an Anglican Parish in the British colony of Maryland.  Many of its buildings were destroyed by fire, but the one that still stands was built in 1856.
When I walked into the church with the rest of the choir, I was still shocked to see how beautiful the building was, the ceiling was even painted to look like the sky.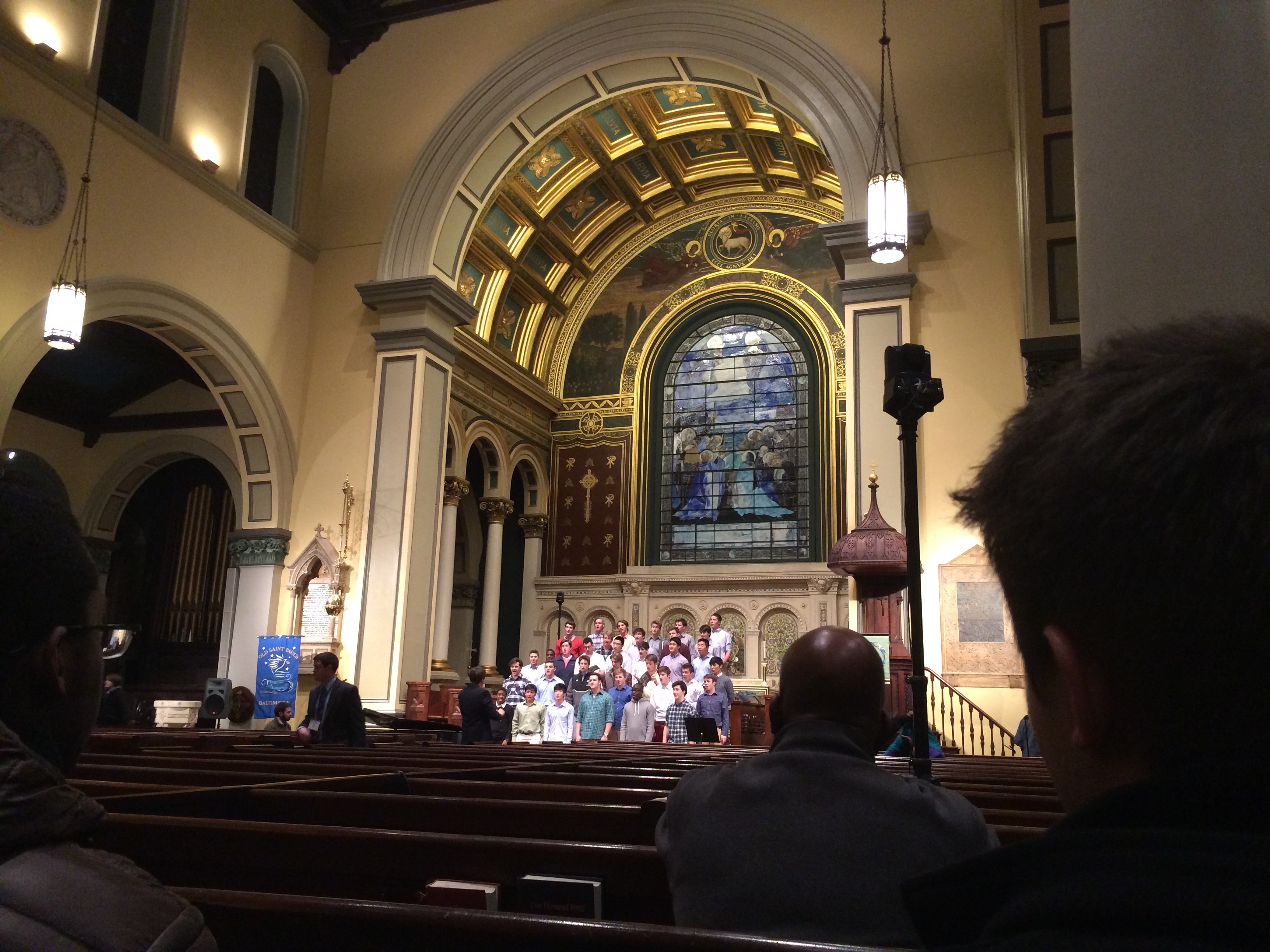 Unfortunately I wasn't able to take very good pictures, and although that is mostly due to my lack of skill, we were also extremely rushed.  We had 30 minutes to do a sound check, and not a minute more.  The group in the second picture is another choir that was selected to perform.  They were extremely talented, and are from a performing arts high school in Connecticut.
It has already been an amazing experience to travel with the choir (and spend some time at the inner harbor) , and I am sure that tomorrow will be memorable.  Perhaps what makes this performance so unique, and difficult, is the audience.  The only people permitted to be in the audience are attendees of the conference: Choir directors and professors.  We are performing 5 pieces, and the composers of 3 of them will be in attendance.
Although it's a tough crowd, I'm really looking forward to it.  After our performance tomorrow, we are heading to the Harrisburg Area to perform at various churches until Sunday night when we return to campus.  It never stops, but I wouldn't want it to.