This quiet, unassuming teen escaped my notice my first couple of years I visited the orphanage, but by the third year I recognized his face and called him by name, Ronnie.  I recognized his face and voice from church the previous night when he had sang in the band playing.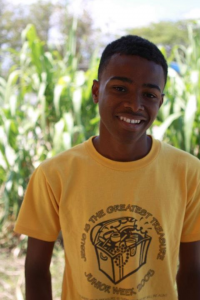 Mind you the church we held at the Rose of Sharon Orphanage in the middle of the Dominican Republic was vastly different than most church services in the US.  The church was simply a building with folding chairs inside and the music consisted of a primal looking drum, a rugged guitar and some voices, one of whose was Ronnie's.  With the two instruments being relatively quiet, the voices could clearly be made out ringing off the sides of the building.  Ronnie had a sweet melodic voice that rose and fell in even measure with the rhythm of the song.
As I spoke to him, even his normal speaking voice ebbed and flowed with rhythm and he sounded as if he were singing.  I asked him if he liked singing and he nodded shyly, obviously not used to the attention.  I continued to chat with him in broken english and the infrequent spanish word I could throw in.  Over the next hour, his story began to unravel about how he came to the orphanage and his dreams.  Ronnie was brought to the orphanage along with an older and younger brother at about age 7.  He didn't elaborate on life before the orphanage so I'm guessing it wasn't positive.  But growing up in the orphanage, he had formed strong bonds with many of the boys and he was best friends with his two brothers.  I was so glad I had taken the time to engage with this shy teenage and learn a little about his life.  It took some more similar conversations over the next week and years after that to bring him out of his shell, but eventually Ronnie and I became friends.