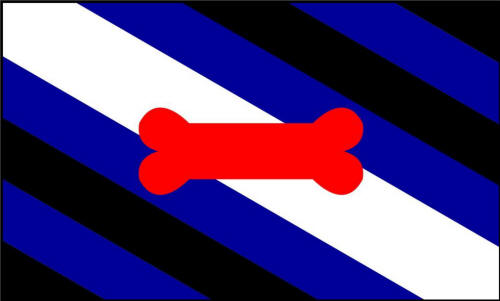 Puppy play, or dog play, is a form of animal roleplay that first appeared in the United States in the leather community around the 1960s. Today there is a growing community of human pups and handlers who gather to socialize and play at events all over the United States and Europe. While the majority of the puppy play community is gay men,  people of any gender and sexual orientation can be involved in the subculture. Puppy play is a variation of dominant/submissive relationship that emphasizes the fun dynamic between an owner and their pet. Papa Woof, a long-time member of the puppy play community, described his interest in the roleplay in an interview with Vice.
" 'Have you ever owned a pet?' Papa Woof asks. 'How many times have you come home from a stressed day and thought, what a wonderful life they have? Someone to pet, feed, play with them. They are happy, mostly carefree… That's what the headspace of puppy play is all about.' "
Pups have the opportunity to be free of their human personality and embrace a new, carefree headspace. Puppies take on the persona of a biological canine and embrace animal instinct. Most of all, puppies love getting pet and getting love and praise from their handler. Puppies may like to play with chew toys, play fetch, bark, walk on all fours, explore and get in to trouble. Many pups wear gear to enhance the play. Most commonly collars and masks are worn,but all sorts of rubber, leather, and neoprene gear is used in puppy play.
The relationship between a puppy and its handler is a spin off of the master/servant dynamic present in BDSM culture. There is a lot of variety in the relationships between handlers and pups. Some handlers may be more strict and controlling, focused on having a well-trained, obedient pup. Others can be more playful and nurturing, caring for pups in a less strict way. While the dominance of the handler is maintained in all puppy play relationships, there is a lot of flexibility in the way that the handler plays their role.
For many people, puppy play is not necessarily sexual. Many events, such as the popular Pup
Social are purely fun, social events that do not allow any kind of sexual play. At such gatherings, puppies play with each other in a puppy mosh pit while handlers observe and socialize. Some events may have vendors, dances, contests, gear demos, classes and more. These events allow people involved in puppy play to meet up in a safe social environment
In this course we have discussed a lot about sex and sexuality and self-identification. Puppy play is definitely to be erotic and sexual, usually restricted to private households and clubs, though it does not necessarily involve sexual acts. The genders of a pup and its handler can conflict with their individual sexual orientations. For example, a gay male pup may have a lesbian handler. Each participant can get pleasure and satisfaction from their role in the role-play, though they may not be sexually attracted to one another. The dominant/submissive relationship and emphasis on gear in puppy play is definitely erotic, but it may not make sense to identify yourself in the puppy play community exclusively by your sexual orientation. For some people interested in non-sexual puppy play, it may make more sense to identify only as a handler or pup than as a gay man or lesbian woman.