Venus Boyz is a documentary film directed by Gabriel Baur in the 1996 New York City life. Various participants of the LGBT community showed a creative and insightful look into their everyday lives. This documentary showed Drag King and Queens in and out of their characters. These people opened up their sexual life, their family life, and a small glimpse into the inside of their beautiful realistic mind.
The following characters below are biological female:
Bridge Markland who is androgynous person plays Karl and Angela. Karl is a sweet, king and non violent man. Angela is sex bomb that radiates self confidence. Bridge lives in Berlin and expresses herself as a neutral person, not expressing either genders.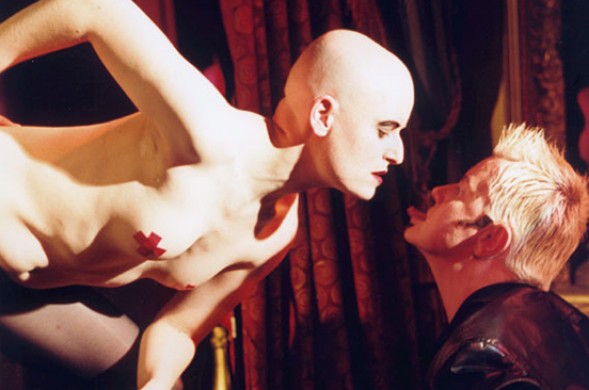 Shelly Mars is an aggressive female that expresses that personality as MO B Dick. Shelly has been a Drag King for 20 years and performs alongside other Drag Kings in the bar in New York City.
Mildred Gerestant is a person that does not categorize his/her gender. He/she says in the documentary "I'm not a Butch or femme. I just–whatever im feeling. I can be one way one day and another way the other. I just know it." Mildred is a quite shy and to herself during her full time job as a computer analysis. But when she changes into Dred he becomes an erotic, lively man that says or does whatever he wants.
Storme Webber knows Mildred as his "Granny". Storme was born and raised with a lesbian mother and a bisexual African American father. For being exposed to the queer culture as a young girl, Storme developed the mindset to handle anyone looking at her/him through outlooks only through distinct race and gender. As a transgender he/she is drawn to identity indifference, it gives a sense of comfort. He/she express,
"And so with Masculinity its the same. Its what surrounds it you know, its this its always a, the dichotomy, its the moving forward and the holding back and the being vulnerable and this is what is interesting that's what i find that makes any performance good passion."
Diane Torr mostly enjoys portraying herself as male characters. In her previous years before drag she was was married and had a daughter. But she wasn't happy with herself, and so she found something that made her feel comfortable, which was being a Drag King most of her every day life. She feels more respected and more confident living as a man and dating butch lesbians. She also explains the outlook on women,
"As woman its like were open for access 24 hours a day.

People have to like us. That's like the ruling thing in our psy

ches. So what does it mean to be a woman? What kind of a woman am I? I want you to like me. I want you to hold me. I want you to fulfill my dreams."
Judith Halberstam a gender theorist says:
"We don't as individuals reinvent the meaning of gender. Each person individually, one person at a time. We, we come in to genders that have already being constructed for us within political, economic, social cultural context. So what we do, when we are in agenda is perform an already socially constructed script."
All of these participants may not identify as a female in this documentary biut make no mistake,they love their genitals and do not want surgeries to permanently keep them from being a biological female. Not many people outside of the LGBT community such as myself knew their are Drag Queens and Kings, who are both fighting to break stereotypes given to them.
In class we discussed the comparisons and contrasts of Caityln Jenner and the character Moira in the move "Transparent". Although Caitlyn does not perceive highly to some members of the transgender community, she still suffered in what every woman in the documentary has gone through; and that is being an outsider.Moira in the show does show authenticity and reliability which more transgender people can gravitate towards but it was just a character in a TV series. Desire, sexual orientation, body, romance have no gender identity labeled with only men and woman, but i feel only pure satisfaction and self acceptance to ones self.