"The top is careful to give him just enough to stretch his capacities. . . . The crowd is transfixed by the scene of intimacy and display, control and abandon, ferocity and abjection. . . . We have never seen such a display of trust and violation". What is being described here is quote taken from Sex in Public by Lauren Berlant and Michael Warner. Here they are describing a special relationship between two partners preforming an erotic sexual act which involves force feeding, an extreme power dynamic, informed consent, a lot of trust, and vomiting.
There is a parallel between the "normal world" and the sex world. Although extremely close these worlds never seem to touch. The sex world today is typically kept behind closed doors and any actual sex is kept private. Of course there are certain establishments where people can go to see sexually enticing acts, dances, strip teases, or a little bit of girl on girl performance; however, a live sex show of any other type is typically out of the question for most places. Amsterdam, famous for its Red Light District featuring brothels, strip clubs, and even live sex shows; is a place that still offers these forms of entertainment at many different levels.  Casa Rossa, a theater in Amsterdam's Red Light District offers multiple shows ranging from stripteases, S&M, couples having sex, and even a banana show.   
These shows may not be for everyone as some people may perceive them as pushing the boundaries of sex, power, and trust.   Well what about a show featuring professional dancers performing sexual acts without pushing any boundaries? In 2003 the group of Spanish theatre dancers known as La Fura dels Baus preformed a sex show titled XXX, a show based from the writings of Marquis de Sade. Featuring naked actors the show depicts an array of sexual acts set on exploring the nature of sexual fantasies. Featuring explicit scenes no "actual sex" is preformed, instead prosthetics are used and film clips are used to display certain acts. While the show is extremely graphic and has been known to leave nothing to the imagination, William Burdett-Coutts the artistic director of Riverside Studios, explains that "the whole point of it is that it makes you think about what is acceptable and about fantasies and about what you believe in".
Although extremely sexual the XXX performance does not test the same boundaries as a real live sex show. In some cases a real live sex show will include volunteers from the audience and test them on stage to see what they are comfortable with and willing to do sexually. There is a high level of intimacy and trust between live sex performers especially if the performance involves painful acts. Viewers of these dynamic acts may be unaware of the sensual and trusting relationship between the performers and may disapprove of such acts. Sadly, even with the showing of XXX in an atempt to ease the notion of sexual acts, such performances are fading and most have been removed from society. For the places that are left, some only offer just a peep.  Peep shows can offer its customer some fantasy fulfillment but they are much different from a live sex show as they typically are not as explicit or unusual and most importantly do not feature the same level of dynamics and intimate trust as other sexual preformances. While live sex shows have become harder to find, productions of these shows have continued on behind closed doors.
Located at 1800 Mission st. in San Francisco CA there is a building known as The Armory.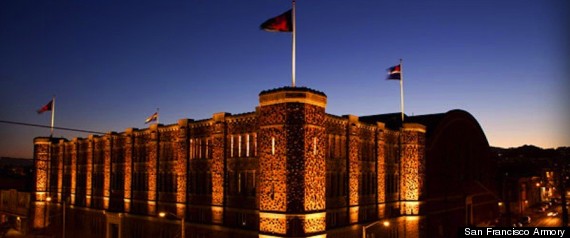 Vacant for years, this large military building was purchased by Kink.com in 2006. Kink.com is a pornography company that produces and live streams BDSM acts and other fetishes, with a mission to "demystify and celebrate alternative sexualities". While the locals in the Mission District are aware of Kink.com's presence many walk by this magnificent building every day and have no idea what takes place inside. While places for live sex shows and other fetishes are pushed out of sight from society they are still accessible through other means all while keeping the sex world away from our "normal world".