AFFILIATED PENN STATE FACULTY (inside College of IST)
AFFILIATED PENN STATE FACULTY (outside College of IST)
Guangqing Chi
Dr. Guangqing Chi is an associate professor of rural sociology and demography and director of the Computational and Spatial Analysis Core of the Population Research Institute and the Social Science Research Institute at the Pennsylvania State University. His teaching interests are in demography, spatial analysis, population and environment, social statistics, and transportation and society. His program of research examines the interactions between the human population and the built and natural environment upon which we all depend. He pursues this objective through two interwoven areas of research: climate change, land use, and community resilience; and critical infrastructure/transportation, population change, and population health within the smart cities framework.
Contact:
112E Armsby
Penn State University
University Park
,
PA
16802
Michael R. Bartolacci
Dr. Bartolacci is an Associate Professor of Information Sciences and Technology at Penn State Berks. Bartolacci conducts research in telecommunications modeling, electronic commerce modeling, customer relationship management, manufacturing modeling, and international aspects of telecommunications. Dr. Bartolacci received his PhD in industrial engineering from Lehigh University in 1995.
Contact:
Anthony Robinson
Dr. Anthony Robinson is Director of Online Geospatial Education programs and Assistant Director for the Department of Geography's GeoVISTA research center at Penn State. Dr. Robinson teaches Maps and the Geospatial Revolution on Coursera, a MOOC that has enrolled over 100,000 students from 200 countries to date. For the GeoVISTA Center, Anthony's research focuses on the science of interface and interaction design for geographic visualization software tools. He has developed interface design and usability assessment methods for integrating geographic visualization tools with work in epidemiology, crisis management, and homeland security.
Contact:
318 Walker Building and 433 Earth and Engineering Sciences
acr181@psu.edu
Guido Cervone
Dr. Cervone's formal background is in Computational Science and Remote Sensing, and his research focuses on the development and application of computational algorithms for the analysis of spatio-temporal remote sensing, numerical modeling and social media "Big Data" related to environmental hazards and renewable energy. Dr. Cervone's focuses on problems related to the fusion of heterogenous data at different temporal and spatial scale. His research interests also include environmental hazards, remote sensing, geoinformatics, and social media.
Contact:
322 Walker Buidling
cervone@psu.edu
(814) 863-0179
Justine Blanford
Dr. Blanford uses GIS and spatial analysis to map and model many different phenomena across space and time. Much of her work concerns issues related to human health either indirectly through examining threats to food supply (via crop pests and crop diseases) or more directly via disease, mobility and health care accessibility.  Dr. Blanford uses GIS to understand the ecology of disease at different spatial and temporal scales and connectivity between locations using novel data sources such as news feeds and social media microblogs.
Contact:
316 Walker Building
jib18@psu.edu
Triparna Vasavada
Dr. Vasavada is an associate professor of public administration in the School of Public Affairs at Penn State Harrisburg. Her research interests are nonprofit management, gender and leadership, disaster management, social network analysis. She teaches courses in research methods, and nonprofit management. Her work has appeared in the scholarly journals such as American Review of Public Administration, Administration & Society and Public Management Review. As a Ford Foundation Fellow, she has worked as co-managing editor for a leading journal in women studies' "Gender & Society". She has received numerous grants and awards including ARNOVA's emerging scholar award.
Contact:
tbv1@psu.edu
(717) 948-6363
AFFILIATED MEMBERS FROM OTHER INSTITUTIONS
Christopher W. Zobel
Christopher W. Zobel is the R.B. Pamplin Professor of Business Information Technology.  He received the Ph.D. in Systems Engineering from the University of Virginia, the M.S. in Mathematics from the University of North Carolina at Chapel Hill, and the B.A. in Mathematics from Colgate University.  His primary research interests are in the areas of intelligent decision support systems, knowledge engineering, and large-scale stochastic decision problems, and his recent work has focused on the areas of disaster operations management, particularly supply chain resilience, and environmental decision making.
Contact:
czobel@vt.edu
(540) 231-1856
Cornelia Caragea
Cornelia Caragea is an Assistant Professor at the University of North Texas in the Computer Science and Engineering department. Her research interests are artificial intelligence, machine learning, information retrieval, and natural language processing, with applications to scholarly big data and digital libraries.
Contact:
ccaragea@unt.edu
Milad Baghersad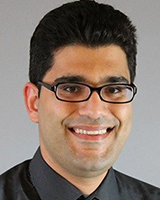 Milad Baghersad is a PhD candidate in Department of Business Information Technology at Pamplin College of Business, Virginia Tech.
Milad Baghersad current research is focused on supply chain disruptions, resilience strategies, and perception of resilience in decision making process.
Webpage: Click here (https://sites.google.com/site/miladbaghersad/)
Contact:
(540) 231-9128
mbaghers@vt.edu
Frederick Bénaben
Prof. Frédérick Bénaben is the head of the IO research team (Interoperability of Organizations) at the Industrial Engineering Center at Toulouse University Mines Albi, France. His research activities concern:
Covering abstraction layers of knowledge management: data, information, actionable knowledge.
Covering the lifecycle of collaborations: define (design the model of the collaborative behavior), realize (orchestrate the collective workflows) and maintain (detect any unexpected situation and adapt the collaborative behavior accordingly).
The main application domains of these research works are: preparation and response phases of crisis management, agility of the supply-chain for industry 4.0, interoperability of information systems, inter-modality in transportation for smart-city, and health care systems.
Contact:
Sebastien Truptil
Dr. Sébastien Truptil is an Associate professor at the Industrial Engineering Center at Toulouse University Mines Albi, France. His research interests include information systems (business informatics), computer architecture, Internet of Thing and artificial intelligence applied to several contexts such as crisis management, supply chain management and transportation networks. The main concern of his research is to work on bridging the gap between knowledge management and technological solutions (IoT, SOA, CEP). This includes especially interpretation, exchange and exploitation of data through model transformations and ontologies in order to design agile mediation information systems based on web and cloud architecture.
Contact:
sebastien.truptil@mines-albi.fr
Aurélie Montarnal
Dr. Aurélie Montarnal is a postdoctoral researcher at the Industrial Engineering Center at Toulouse University Mines Albi, France. Her research focus on supporting cross-organizational collaborations, especially in crisis management. This includes, first, the gathering and interpretation of data, in particular those emerging from social media, to detect and characterize crisis situations. As a second step, her research also focuses on the deduction of cross-organizational business processes involving the relevant partners, in the specific crisis situation, during the response phase.
Contact:
aurelie@montarnal.mines-albi.fr
Elena Badilla Coto
Elena Badilla Coto has a Masters degree in Geography Information Systems from the International Institute for Geo-Information Science and Earth Observation (ITC-Holland). She is the Coordinator of the Masters Program in Risks Management and Emergency Response. She teaches courses in general geology, geomorphology, and remote perception in the Masters Program of the Department of Geology. She has published scholarly articles in national and international journals.
Contact:
ELENA.BADILLACOTO@ucr.ac.cr
Edward Ruiz
Mr. Ruiz received his Master's in Disaster Risk Management and Emergency Care. His interests include generating a culture of prevention and information management to reduce risk. His  research and professional experience includes the development of computer platforms for risk management.
Contact:
edward.ruiz@ucr.ac.cr