The United States of America prides itself on having a democratic government. It is one of the most popular examples of a successful democratic government, and when it comes to foreign affairs and dealing with corrupt governments, the United States's government will always be referenced as an example of a possible solution. The biggest factor, as to why democratic government's like America's are idealized is because they represent the common people. The government is not just a group of wealthy aristocrats deciding how the country should run without input from the public. The American government has leaders chosen by the people and influenced by what the people want, and thus, our governing body represents all of us Americans… or at least it claims to do so. Americans are known for their diverse, family backgrounds, with most American families having immigrant roots from their ancestors; or with some being first generation American-born citizens from immigrant families. Either way, Americans are a diverse breed of people, and if we are to be embodied properly in the government, then we should expect the same diverse group of people representing us. However, that is not the case, and the American government suffers from a very evident diversity gap. This infographic perfectly defines who is really being represented in American politics.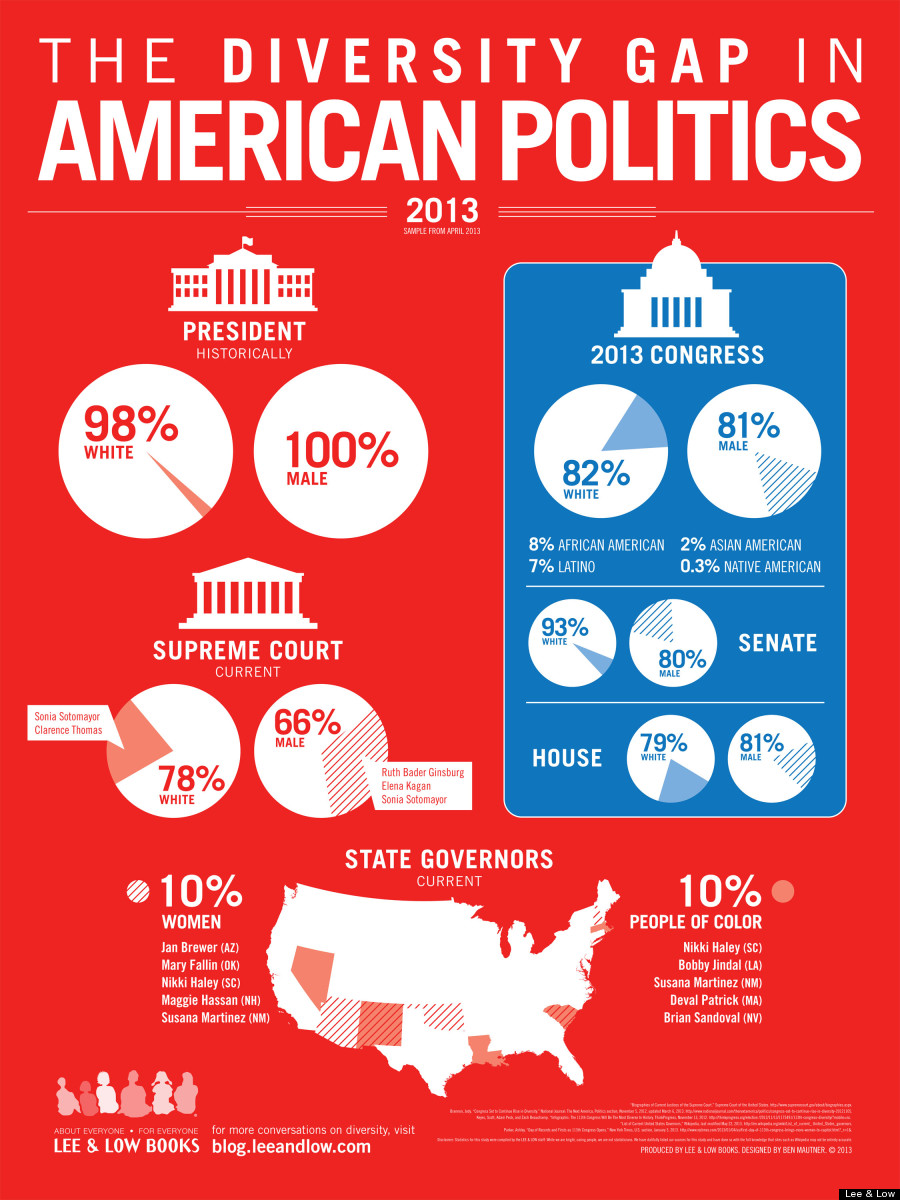 It is surprising how many minority groups are being left out and essentially have no say in how political decisions might affect the country they live in. The diversity gap only gets worse at the state level, and worsens as the governing bodies become smaller and more localized with district boundaries, counties and local governments. 
These statistics are concerning, and the lack of diversity in politics is not an issue that is prioritized by those in power. In fact, most of the public does not even realize how drastic and extreme the divide really is. As a female, and a naturalized Mexican-american citizen, it is a disheartening to know how little of an impact or say an individual such as me has in my own country's government, specially when there is such a huge group of people that have the same minority representation. Still, while this topic is not of up-most importance to some politicians, it has been discussed , and claims such as mine are not entirely new. When debating this issue some politicians have replied that if people want to see change in representation, it is their responsibility and they have the power to vote for people who will give them representation in government.  Unfortunately, minorities' voting power can only be as strong as those who exercise it. This feat is one that complicates the issue even more because more people in minority groups need to vote, but a lot do not feel motivated to vote. This could be because there might not be a candidate they can vote on who can represent them; or even if they were able to gather the votes for a candidate, they would still be a minority in government with the present lack of diversity. A great example of this is seen with the majority of young Americans who choose to not vote. They believe their individual vote will not matter, and they also do not have a lot of candidates to choose from who can speak for them. With this in mind, it isn't hard to understand why minority groups might feel disadvantaged and choose not to participate in politics (whether it is voting or running for a position). This problematic cycle does not have a clear or easy solution, but there are changes being made to inform and bring significance to this issue, as well as slowly introducing more minority leaders. We can be sure that, while it is slow, progress is being made. The number of immigrants, working women aspiring to be leaders, educated young people, or even those in the LGBT community, etc. is increasing, and soon those considered minorities, will not be anymore. So, in the future we can hope to see a more representative government that will empower us and make us stop wondering where is the diversity?