Two weeks of the football season have come and gone, and frankly I am surprised because everything I knew or at least thought I knew is being flipped upside down and my fantasy football team is taking the hit. My team has scored an abysmal 163.95 points in two games; recording the second lowest total last week (luckily it was against the only guy with less, thank you football gods). So much for being the defending champ. I have never had such a bad start to a season. As I cannot appropriately express my frustration with vocabulary that is adequate for a blog, I resort to this GIF: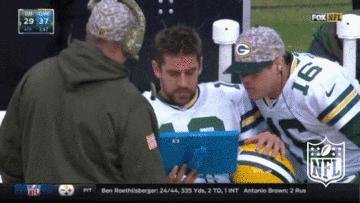 In week one I lost one of my favorite players in the whole league, Eric Berry, to a torn Aquilles tendon. Berry is a cancer survivor, and one of the most explosive safeties in the league; I bid him well in his recovery because he is one of the true heroes of this sport. I also had two players with negative point totals resulting in a disappointing 85 point performance. Russell Wilson and the Seahawk's offense looked unimpressive and have only scored one touchdown through 2 games this year. The other player was T.Y Hilton, last year's leader in receiving yards has been contained to under 60 yards in two games. Adding a fumble only makes it worse if you consider the drastic -4.5 penalty. Well, at least there were not any interceptions which would total -4 points, or a sack, which gives -2.5. Oh wait, Russell Wilson has been sacked 3 times!!! There is a lesson here, when your league commissioner goes crazy, you have to adapt. It's that simple.
On another note, remember that time I said I wasn't sure about drafting Mike Evans? Well guess what; after his first game of the season I am satisfied with my selection. He was my highest point scorer with a whopping (sarcastically) 12 points. I don't mean to diminish his good points total with my sarcasm he actually put up some good stats, I am simply frustrated that my team has been underperforming and I have no good solutions. I am generally not much of a trader of players, but I think I can get some good value for either T.Y Hilton or Adam Thielen (or both). But the question here is what to get in return. I have a solid pair of running backs and quarter backs who have simply had a string of bad games. It will turn around, I think. Maybe I can cash in and get a decent tight end? To be honest I might not get anything at all because they are not high end players so far. Well, this puts me in a bit of a pickle. But for now I think the best thing to do is let it play out a little longer and see how it goes.
One thing I have noticed though, is that the scores for all the teams in my league have been lower than usual. And as I look back at the games, the scores and the highlights I realize that there have been a lot of low scoring games this year! Maybe I can blame my struggles on that.  Turns out it would be a legitimate reason, as indicated in this article posted on the Wall Street Journal. Which discusses that due to the aging quarter backs in the league offenses have become less explosive, and that possibly, defenses have simply figured out how to stop these pass happy offenses. But in all seriousness I am trying to use this struggle and mismanagement as a long term learning experience. I am going to try to be patient, observant and for 4 weeks to see if I can see and improvement; if not, some serious changes will be made. Because lets face it, everyone hates losing.