1. See the Northern Lights
My best friend and I in sixth grade were obsessed with seeing the northern lights. Sometimes you look at the pictures and you can't believe that these colors light up the night sky like this. I want to be able to experience this natural phenomenon in real life and in person. My family and I have wanted to travel to Alaska for a while so hopefully I would be able to go one day and see the sky lite up with beautiful colors
2. Jump of a cliff
I love in the movie Sisterhood of the Traveling Pants 2 when they all meet up in Greece and they all jump off this cliff together into the ocean. It looks like it would be so much and exhilarating and I want to try it out. When I went white water rafting in West Virginia I jumped off this big rock into the river, but now I want to take it to the next level and jump Sisterhood of the traveling pants style!
3. Hold/hug a kola bear
This one is kind of stupid but I once read this book called The Lost Girls and it was all about these three best friends who dropped everything, their boyfriends, jobs, everything to travel the world for a year. While they were travelling in Australia they had the opportunity to hold a kola bear. I remember they described the experience as getting a really awesome hug. How awesome? I want to get a hug from a kola bear!!
4. Travel to every continent
My goal is to reach every continent in the world through my travels. I want to reach at least one country on every continent. Every continent offers such a different lifestyle and different environment it would be cool to say that I have been able to witness literally every part of the world.
5. Visit all 50 states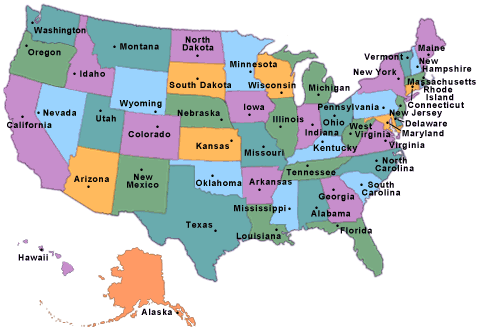 Sometime I focus so much on going outside the country I don't think about how cool our own country is. I want to visit every state so I can say I have seen all of America. America has so many different places and things to offer I want to explore the country I live in so
Pictures cited:
https://i.ytimg.com/vi/zdCTk-i_-Qo/0.jpg
http://i.telegraph.co.uk/multimedia/archive/01753/northern-lights1_1753909i.jpg
http://resources1.news.com.au/images/2009/11/20/1225800/371781-its-not-all-snakes-bindi-irwin-hugs-a-koala-at-a-5546232-jpg.jpg
http://www.buddhanet.info/wbd/images/maps/WBD_world-map.jpg
http://i.infopls.com/images/states_imgmap.gif