Susan Wojcicki: YouTube CEO and Silicon Valley Glass Ceiling Shatterer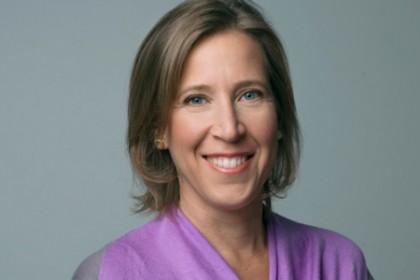 IF YOU THINK ABOUT SEARCHING FOR SOMETHING ON THE INTERNET THE NAME GOOGLE IS USED MORE OFTEN THAN NOT.  WE HAVE ASSOCIATED THE COMPANY AS A VERB FOR ONLINE SEARCHING JUST AS MANY AMERICANS USE THE BRAND NAME KLEENX IN LIEU OF ASKING FOR A TISSUE.  SUSAN WOJCICKI, GOOGLE'S 16TH EMPLOYEE, IS THE DRIVING FORCE BEHIND GOOGLE NOT JUST BEING A COMPANY BUT AN EVERY DAY WORD. 
Susan Wojcicki is the marketing genius behind Google and now YouTube's advertisement revenue.  She rented out her garage in 1998 to Google founders Larry Page and Sergey Brin and then became their 16th hire within the month of taking residence in her garage.  She was one of the first women to break through the tech industry and is shattering ceilings left and right with her leadership and innovative ideas (Chang, 2018).  In 2006 she advised that Google should acquire YouTube for the hefty price of  $1.6 billion dollars and through her ingenious advertisement ideas has turned that into a near 100 times the purchase price profit to a now estimated $160 billion as calculated by Morgan Stanley in 2018 (Bhardwaj, 2018).
Wojcicki has a leadership style that has served her, Google, and YouTube well.  Her leadership outlines much of what a change catalyst and transformational leader would handle in her various roles with Google and YouTube.  Her unwavering dedication to expand Google's assets, diversify the makeup of employees to include ending negative gender stereotypes towards women, and showing bravery by taking risks and making difficult decisions is unmatched (Bradford, 2015).  She is an intelligent leader who has had major success in influencing groups to take risks and they have paid off greatly (Dobbs, 2018).  She has overcome adversity recently as well when a former engineer with Google sent a company wide memo portraying sexist slander towards females in the industry that went public.  She wrote an essay that was not the go-to reactive response most corporations put out in a press release.  Instead she wrote her personal issues with gender stereotypes and how she answered questions from her daughter who had also read the memo.  Illustrating just how dedicated she is to ethics and diversity, a key ingredient to good leadership.
Through it all she keeps pushing forward and continues to make great strides for her company as chief executive officer.  Just recently YouTube has rolled out YouTube Red, which is a paid for subscription platform that looks to be her next big break in generating revenue for Google.  Only time will tell when her next big idea comes to play in the tech world.  We as consumers are waiting with baited breath to see what YouTube's next venture will be, but till then we'll continue using Google as a verb and utilizing YouTube for everything from finding instructional videos on how to change the oil in your car to finding the next great artist to subscribe to.
References
Bhardwaj, P. (2018, July 3).  Susan Wojcicki convinced Larry Page, Sergey Brin, and the Google board to buy YouTube, and it all started with 'a purple Muppet singing a nonsense song'.  Business Insider.  Retrieved on September 25, 2018 from https://www.businessinsider.com/susan-wojcicki-larry-page-sergey-brin-google-board-youtube-acquisition-2018-7
Bradford.  (2015). Transformational leadership: The impact of its behaviors on manufacturing strategy.  Strategic Direction, 31(2), 25-27. Retrieved from http://ezaccess.libraries.psu.edu/login?url=https://search-proquest-com.ezaccess.libraries.psu.edu/docview/1661953441?accountid=13158
Chang, E. (2018). Brotopia: Breaking up the boys' club of Silicon Valley. New York, NY: Portfolio/Penguin.
Dobbs, W.C.  (2018). L02 Intelligence and Leadership.  The Pennsylvania State University.  Retrieved on September 25, 2018 from https://psu.instructure.com/courses/1940273/pages/l02-intelligence-and-leadership?module_item_id=25097105