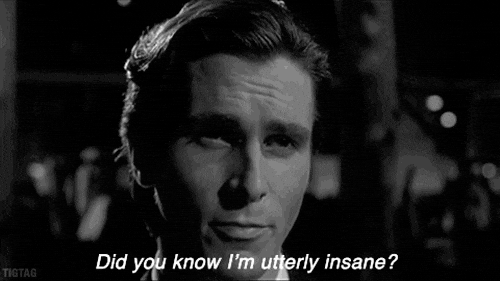 While going through articles for another assignment I came across an article titled "The Disturbing Link Between Psychopathy and Leadership" and was immediately intrigued. My first thought, of course, was Christian Bale in American Psycho. My next thought was Maccoby's work that was mentioned in this week's lesson on the psychodynamic approach to leadership.  I found some interesting links between his productive narcissist and the psychopathic behavior mentioned in the article.
First, we must define what a psychopath is and a productive narcissist. A psychopath is someone with, but not limited to, characteristics such as lacking empathy and conscience, grandiose behavior, and manipulative but has the ability to be charismatic (Lipman, 2013). To understand a productive narcissist we must know what Maccoby definition of productive. According to him, a productive personality type is "free and not dependent, guided by reason, active or proactive, understand their own situation, has purpose in life, and the ability to persevere (Northouse, 2013). Maccoby then describes a narcissist in a workplace setting as having a clear vision with the ability to pursue that vision without taking into consideration the ideas or actions of others (Northouse, 2013). However, there are many weaknesses of the productive narcissist such as "unwillingness to listen, sensitivity to criticism, paranoia, isolation, over competitive and over controlling behavior, and grandiosity" (Northouse, 2013).
With these weaknesses in mind we can now understand the productive narcissist's relation to the behaviors of a psychopath and how they can appear to be beneficial in the workplace. Both these personality types have roots in grandiosity and a lack of concern for the opinions of others. In a workplace setting these characteristics can be interpreted as visionary and having desire to reach the end goal no matter what.  As Maccoby stated, this type of personality is best suited for organizations " in times of crisis and change" (Northouse, 2013). But are these personalities really that good for business?
We know according to the text, the psychodynamic approach to leadership wasn't founded on completely empirical data and doesn't take into consideration organizational  factors, so we really don't know for sure if a productive narcissist is good for business. However, Lipman tells us that a psychopath could be very dangerous in the business environment to those they work with and the organization as a whole (Lipman,2013). I believe this to be because they could make risky decisions that jeopardize business and can't understand the feelings of others, potentially making a hostile work environment.
To summarize, some aspects of the psychodynamic approach are still useful to us in regards to understanding different personality styles. It is also important, if going into the business world, to have an understanding of psychopathic behavior to keep yourself, and possibly your company if you're an HR professional, out of harms way. As Lipman believes, there are three ways to prevent problems from psychopaths beginning with "having a clear internal succession plan, focusing on tangible results, and acquiring anything you can about the candidates moral and ethical behavior (Lipman, 2013)."
Lipman, V. (2013, April 23). The disturbing link between psychopathy and leadership. Psychology Today, Retrieved from http://www.psychologytoday.com/blog/mind-the-manager/201304/the-disturbing-link-between-psychopathy-and-leadership
Northouse, P.G. (2013).  Leadership: Theory and Practice.  Los Angeles: Sage Publications.
http://giphy.com/gifs/VelUfLV3j2dOM