To Serve or not to Serve? That is the Question.
Servant Leadership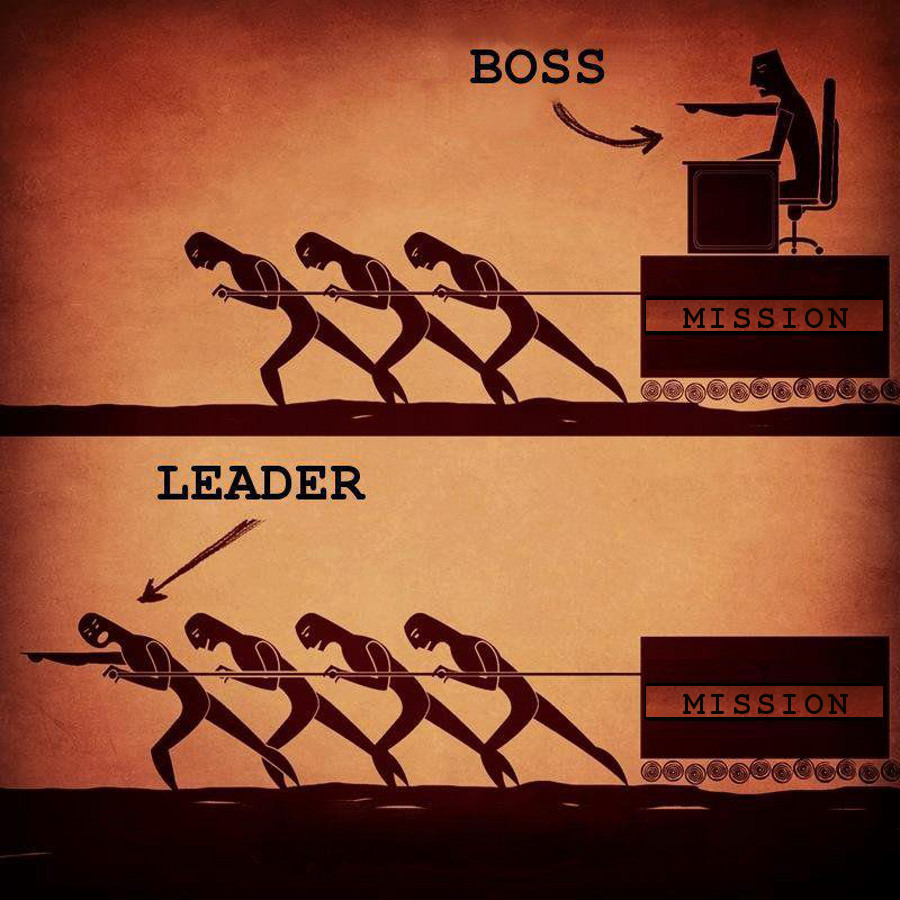 It's imaginable that everyone of us at some point in life has experienced being under someone who demands, orders, someone who is just a boss. However, some point in life, we should also be able to experience being under a leader, someone who not just demands, but also leads the way. A picture can speak more than many words and just by looking at the picture above we can already see the different characteristics between a Boss and a Servant Leader. It is clear that the Servant Leader can wear his follower's shoes, he can see, feel and hear his followers needs, he uses compassion and empathy to show his concern. The Servant Leader can do this and still not lose foresight, he points to the goal of the business's objective. How? By example, by showing the way, communicating, training and by sharing credit saying "we did it" or "lets do it". This type of leadership does not blame for failures but takes full responsibility, knows that the wellbeing of his own followers is of utmost importance for business's success. The Servant Leader helps his followers through failures by becoming one with them, and as one with them, he also learns from it. Do you want a better motivator than that? This awareness is a vital quality for this type of leadership, because by seeking the best for the followers the leader becomes better. (Northouse, 2016, Spears, 2002, p.227-229).
On the other hand, the boss does the opposite. A boss demands because he has the authority to do it, he depends on this authority to reiterate who the boss is. Therefore, without the authority, alone he cannot do anything, he needs someone to blame for his failures and nonetheless uses fear as a weapon of manipulation and takes all credit for success. The bottom line is that he wants the spotlight, he is the company. Therefore he does not care about his followers feelings or needs, because they are payed assets and as so, are substitutable.
However, we can not say that all Bosses are like this. Ultimately, we have to know how to differentiate between bosses, leaders and servant leaders. It's not safe to assume that just because someone is a boss, they are also a Leader and further down if they are a leader, it's not safe to assume that they are servants. The question is, what are servant leaders? Below we can find a few examples of people who have been servant leaders to further understand the concept of servant leadership.
1- Dalai Lama
Dalai Lama is the spiritual leader of the Tibetans. Dalai Lama escaped his homeland after a violent conflict with China in 1959 and sought exile in India where he started the Central Tibetan Administration. He is an example of a compassionate servant leader with his message of peace to the world. He made his life goal to create an independent Tibetan Democratic Government without violence so that his people would not suffer any more. Inspiring many to follow his steps, ideals of peace and compassion towards others.
2-Nelson Mandela
Nelson Mandela, was the former President of South Africa. On his way to Presidency he suffered racism, violence and ethnocentric hate and inspired many with his foresight for a better future to his country. Due to all the hardships he faced, he ended up spending 27 years of his life behind bars. Even through all these hardships, after his release in 1990, Mandela was the face for peace and reconciliation with those that committed acts of racism and hate against him and his people. He was able to end a cycle of violence with a peaceful resolution and assuring the economic and social development of the country for the near future.
3-Dr. Martin Luther King Jr.
Dr. King, an activist and a Baptist Minister from Atlanta, GA had dreams that inspired and changed a whole nation. He led the fight for civil rights and racial equality movements from 1954 to 1968 when he was assassinated. He had a clear vision, sound reasoning, cared much for needs and wellbeing of his people, he fought peacefully for healing and to build a community with equal rights.
In the servant leadership model, we understand that there are certain conditions that are antecedents to servant leaders behaviors. These conditions are formed by, Context and Culture, Leader Attributes and Follower Receptivity. As we can see from the 3 examples above, these Servant leaders fall into these 3 conditions mentioned. As for the Context and Culture Condition they faced situations such as war, ethnocentric or racial cultural context. In regards to the leadership attributes and Follower Receptivity, they had very low or nonexistent moral and emotional awareness towards the people, which then caused followers to be receptive to these emerging leaders.(Northouse, 2016, Linden, Waine, Zhao, Henderson, 2008, Liden, Panaccio, Hu, Meuser, 2014).
Finally, these Servant leaders showed behaviors that ignited a change in people's hearts, they were able to put followers life's before their own, they looked to empower, heal the people by understanding their needs and giving value back to the communities. They were able to accomplish this with strong ethical behaviors, no violence and high moral standards. After the antecedent conditions which caused the behaviors, the outcome speaks for themselves. Outcomes such as the positive impact on society, the growth on self-actualization for all people and the influence that these leaders, today, continue to produce everywhere their names are spoken. (Northouse, 2016, Linden, Waine, Zhao, Henderson, 2008, Liden, Panaccio, Hu, Meuser, 2014).
"It is not enough to say we must not wage war. It is necessary to love peace and sacrifice for it" Dr Martin Luther King Jr.
"Courageous people do not fear forgiving, for the sake of peace." Nelson Mandela
"We can never obtain peace in the outer world until we make peace with ourselves." Dalai Lama
References:
Northouse, P.G. (2016). Leadership: Theory and Practice. Seventh Edition. Thousand Oaks, CA: SAGE. Chapter 10, Servant Leadership, Ten Characteristics of a Servant Leader, p.227-229
https://content.wisestep.com/difference-boss-leader/
https://www.business2community.com/leadership/leadership-difference-boss-leader-01651799
https://leaderonomics.com/leadership/lead-like-famous-servant-leaders 
https://wikispaces.psu.edu/display/P5PFLC/SERVANT+Theory+Page
Northouse, P.G. (2016). Leadership: Theory and Practice. Seventh Edition. Thousand Oaks, CA: SAGE. Chapter 10, Servant Leadership, Model of Servant Leadership, p.231-238