Rio de Janeiro, Brazil
The city of Rio de Janeiro (soon to host the 2014 FIFA World Cup and the 2016 Summer Olympics) has gained international fame for the mountaintop statue of Christ the Redeemer (Cristo Redentor) that overlooks the city and for its numerous, white-sand beaches.  However, just as unique as the city's geographical features is the singular culture of its residents that has developed throughout Rio's history.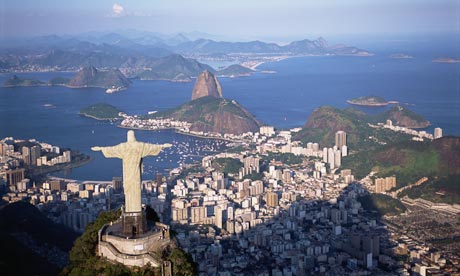 [http://www.theguardian.com/travel/2011/mar/05/rio-de-janeiro-hiking-brazil]
Those who live in Rio de Janeiro (known as Cariocas in Portuguese) seize every opportunity to appreciate life.  In a city known for its beaches, the culture has become greatly oriented around life at the shore.  Its residents frequent the city's beaches and, consequently, a large portion of Rio's social scene takes place on the sand.  Brazil is also home to many fervent soccer (futebol) fans, and naturally the game has become a favorite pastime for Brazilians (including Cariocas).
Unfortunately, when the Cariocas took their favorite sport to the beach with them, problems arose.  Stray balls and rough play began upsetting an increasing number of beach-goers, tourists and native Cariocas alike.  Eventually, the sport was banned from all public beaches, disappointing many throughout Rio de Janeiro.
For those Cariocas who still wanted to hone their soccer skills without having to leave the beach, Octavio de Moraes presented a unique solution.  In 1965, Moraes brought a new sport to one of Rio's most famous beaches: Copacabana.  Footvolley (futevôlei), a combination of soccer (called football outside of the United States) and volleyball, gained immediate popularity.  It quickly spread throughout the city, helping soccer players avoid the strictly enforced ban by adding a twist to their favorite sport.  By 1970, footvolley was being played in multiple cities throughout Brazil and beginning to spread beyond the country's borders.
As you may have gathered, footvolley is played with a soccer ball on a beach-volleyball court.  Its rules are relatively simple.  Playing and scoring are governed by traditional volleyball rules, but players cannot use their hands.  This requires not only speed and agility, but also skill and accuracy when striking the ball.  Traditionally, games played between greatly skilled or professional soccer players were two-on-two in order to increase difficulty.  However, casual games are often played with larger groups.
[http://www.footvolley-bg.com/galery.php?mn=4&gid=2]
The popularity of footvolley led to the creation of a professional league.  Official events were held primarily in Brazil until 2003, when the United States hosted an international competition.  The sport has since grown in many places around the world, especially where soccer is popular and beaches are plentiful.  Although it has a diverse group of international participants, the Footvolley World Cup (Mundial de Futevôlei) is often hosted in Brazil, where the sport was born.
Official footvolley matches are often designed for more aggressive play.  With lower nets and altered rules, fast-paced professional footvolley requires even greater skill than traditional play.  Nevertheless, the sport presents a distinct challenge in any form.  It is a unique application of soccer skills that also requires overall athleticism.  While still a growing sport, it is far from likely that those who have found footvolley will ever lose their taste for its one of a kind nature.
[http://www.futevolei4x4.com/2012/?p=403&lang=en]
Tags: Brazil, Culture, Customs, Football, Footvolley, Rio, Rio de Janeiro, Soccer, Sport, Volleyball