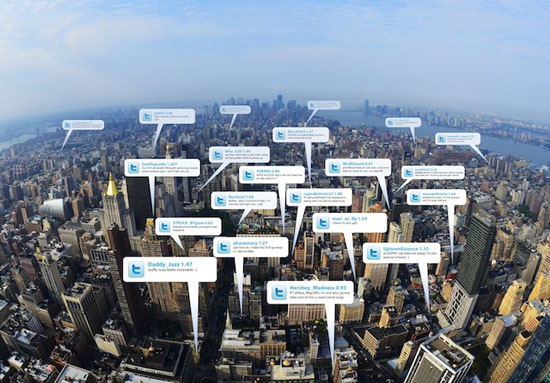 Photo from http://www.rochester.edu/news/show.php?id=5532
Twitter allows us to write 140 characters. With 140 characters, we can "tweet" to share anything from our thoughts, activities, whereabouts, feelings to interests. And of course, we can read others' "tweets." These others are more than 500 million users, from all over the world, including Barack Obama, Justin Bieber to YouTube.
University of Rochester in New York published an interesting research that used Twitter tweets to gather information about people's health. With the help of GPS information provided by the users, showing exactly where the user was at the time of "tweeting", Adam Sadilek and his team collected "tweets" that were "tweeted" only from New York City. The team observed "tweets" that self-report and claim to be sick to track when and where these sick people were located so they could predict "how likely it is for a Twitter user to become sick," in the near future. The team was able to collect 16 million tweets from 630 thousand users for a month in 2010. They were able to map out those feeling sick, took medication, resting at home due to cough, having runny nose, with fever, and suffering with headache tweets. This was to figure out the locations of the claimed illnesses, in order to predict how likely someone near those sick Twitter users will claim to be sick in the near future.
An example would be collecting sick tweets from my Twitter friends and/or the strangers from my recent locations, and find out how their sickness can influence my health, the probability and likelihood of me getting sick. According to Sadilek, the data can predict how my health is going to be like 8 days into future. This will be based on where I have been, what I have been doing and who I have met, collected from my Twitter account. The prediction is 90 percent accurate. However, are self-reported tweets accurate?
Photo from: https://www.cs.rochester.edu/u/kautz/papers/Sadilek-Kautz-Silenzio_Modeling-Spread-of-Disease-from-Social-Interactions_ICWSM-12.pdf
In November 4th, 2015, teenage Instagram star, Essena O'Neill quit her social media account and confessed her posts were not real to her half a million followers. Essena claimed that she edited her photographs to showcase only the good of her life and to make herself look attractive. This was because getting more followers, likes and views in need of feeling accepted and worthy; however, she still felt lonely. She also confessed to have been paid by companies to wear their clothes, shoes, accessories and more. Essena O'Neill proved that social media can be inaccurate and was used to seek attention.
Moreover, In her USA Today's article, Are Social Networks Making Students More Narcissistic, Jayson states that 57% of 1,068 college students reported to have "used social networking sites such as MySpace, Facebook and Twitter for self-promotion, narcissism and attention-seeking." So, when people tweet for being sick, are they telling their followers that they should not come near them or do they want their followers to wish them well? It seems like the probability of them seeking attention for their sickness cannot be ignored. Furthermore, it seems like Sadilek's study might be suffering with file drawer problem, where he made his conclusions with positive results. I mean 90% accuracy using people's Twitter? Really?
Sadilek wishes Centers for Disease Control and Prevention utilize his Twitter founding for future prediction and prevention of influenza breakouts. I do not think this is a good idea. His research was possible because people are actively and willingly sharing themselves on social medias, however, this activeness and willingness do not infer honesty and reliability. Those sick can stay home, take medication, and sleep deep to prevent getting others sick.