Leaving for college is full of goodbyes from friends and family and getting countless words of advice from everyone as you give them one last hug, and I found it all too strange that one of my most common pieces of advice, besides the "study hard and have fun, but not too much fun" line, was "avoid the freshman fifteen"!  This seemed absurd to me.  Was people's biggest concern really that I would leave looking one way and return for Thanksgiving break fifteen pounds heavier? Because I can assure you that this was definitely not up on the top of my list of freshman worries that could possibly lead to my downfall.  Of course, I have heard of the infamous freshman fifteen before, but I never really gave it a second thought, always assuming that it could not be real.  If anything, at a school as big as Penn State, I thought I might lose a few pounds between averaging 15,000 steps a day and skipping a meal here and there to study, so I decided to do a little bit of research myself to see if my hypothesis of the freshman fifteen being nothing but a myth is correct.
---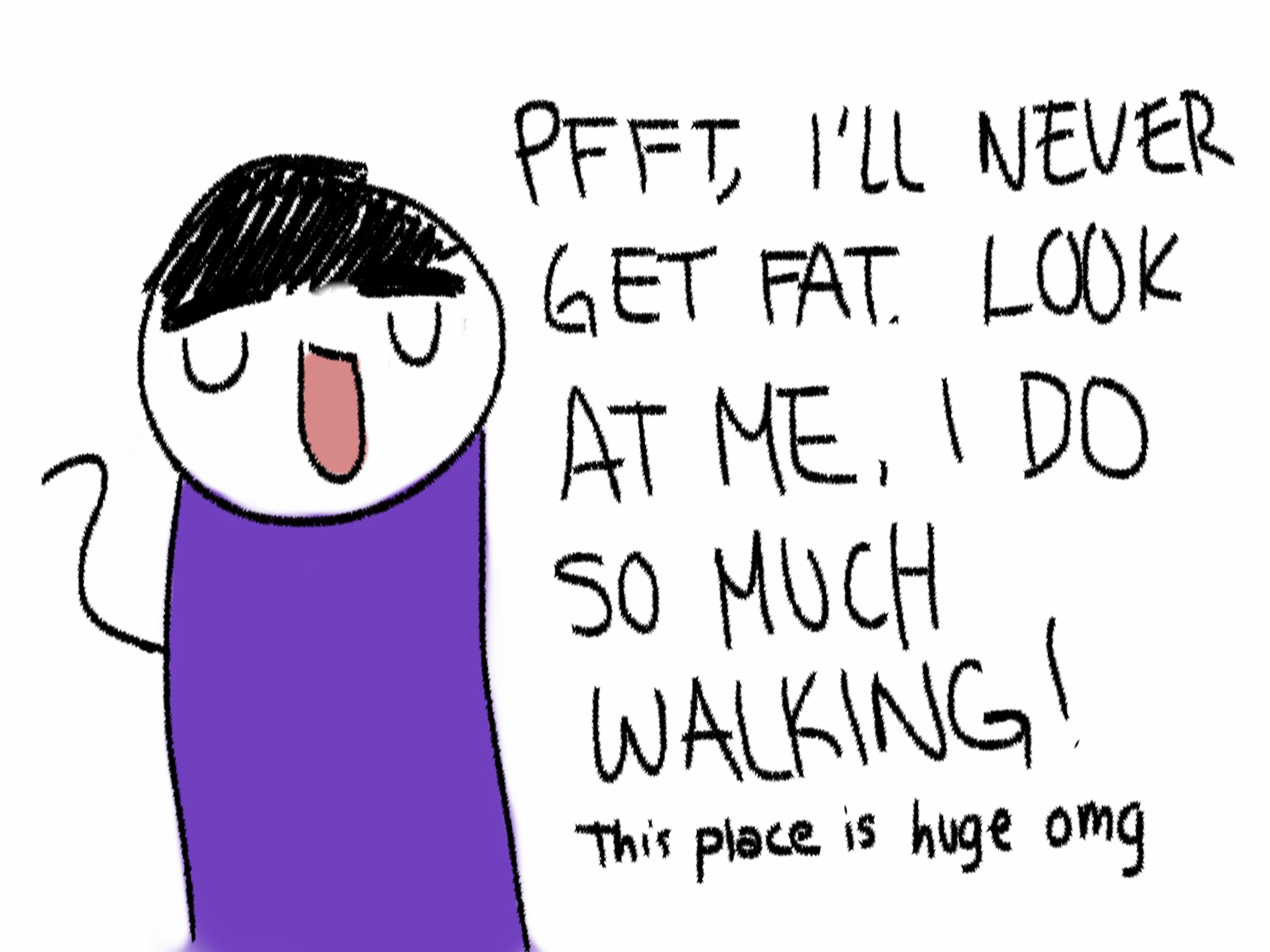 ---
While researching, I found conflicting results on whether the freshman fifteen is a real threat to us or not.  Some stories swear it's something that every freshman should look out for, and others say it's nothing to worry about.  Even though I could just share the findings that confirm my hypothesis, I do not want to take part in any sort of confirmation bias that could provide you guys with false information, so here is what I found on both sides on my argument:
---
The Freshman Fifteen is REAL!
According to Jennifer Warner, the freshman fifteen should be one of every freshman's biggest fears.  In this study, researchers found that freshman do in fact gain weight during their first year at college, but of those students that do gain weight, it is not a huge amount.  In just the first semester, these freshman gain about an extra 5% of their original body weight, but usually it adds up to around ten pounds.  However, in my opinion, the 25% of freshman that the statistic pertains to may have other reasons for weight gain than just being a freshman in college.  Yes, that is a lot of people, but there are also a lot of other factors that could play into this freshman fifteen.  For one, if you are a freshman who is choosing to go to parties and drink every night, expect to be plagued by the freshman fifteen because not only are you drinking a major amount of extra calories, but you are most likely eating more too.  This drastic weight gain could also be coming from your frequency at the 'all-you-can-eat' buffets or your lack of physical activity along with the many changes in your environment and behavior as you enter college.
---
It's just a MYTH!
On the other hand, the next research study I looked at is telling me that there is no need to fear because the freshman fifteen is irrelevant to the majority of college freshman.  According to this post, most college students did not gain any weight in their freshman year, and even the students who did gain weight usually gained no more than five pounds.  Five pounds is a lot more manageable than fifteen, but still does show a slight correlation between starting college and gaining weight.  However, according to this study done at Ohio State University, most freshman only gained about three pounds, and in this same study researchers found that very few freshmen actually gained fifteen pounds during their first year, with less than one tenth of students reporting this significant weight gain.  Reading that only this small fraction of students actually gain fifteen pounds surprised me considering how much the freshman fifteen is played up in the media, but what surprised me even more was that one in four freshmen lost weight!!  Everyone always says that college is a new beginning, a fresh start, and I guess those freshman used this new beginning to change their diet and get in shape!
---
---
All in all, for most of you, the freshman fifteen will be nothing but a myth, conditionally proving my hypothesis to be correct, but the freshman four might be more realistic.  That being said, as long as you continue with a healthy diet and exercise regularly (including the hike to class from one end of campus to the other), you really should not be worried about anything!
BUT WAIT!
Don't let your guard down too fast!! According to this study, the majority of college students will gain weight while in college, just not all during freshman year like the freshman fifteen theory.
So in my words of advice, don't believe that you have beat the freshman fifteen until AFTER you graduate, or you may be looking at the senior sixteen, and NO ONE wants that!!
Image Links:
https://tgc-cache.s3.amazonaws.com/images/uploads/articles/freshman15.png
http://blogs.ubc.ca/courtneyc/files/2012/11/image-2.jpeg