A GMO is commonly known as a genetically modified organism. The following article talks about the history of GMOs and DNA. I think it's an absolutely incredible idea. We discovered DNA almost 150 years ago and sometime from 1868 to 1972  someone thought " Hey , what if we mixed two different strains of DNA to improve plants and crops?". The method that is used to create new strands of DNA is called gene splicing. According to the article above, gene splicing is the process of cutting and placing specific DNA proteins into other strands of DNA.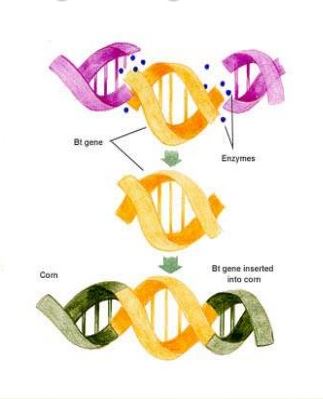 Now I know what everyone's thinking. Who are we to play God and alter the genes of species? There are many positive things GMOs bring to us. Third world countries still are suffering from starvation. What if rice and beans were able to grow in harsh conditions where it normally wouldn't thrive? Or if they could enhance the size of the rice or add more nutrients into the grain? What if crops were altered to survive in frigid temperatures? The possibilities are endless.
The following article discusses some of the positive effects of GMOs to the global population and environment. One of the most interesting pieces of information that I read from this article was the possibilities of edible vaccines. A crop could be produced on a mass scale in order to prevent anything from malaria to cholera. The article describes a potato plant that has been tested as a pharmaceutical drug that can prevent diarrhea. I'm excited to see what the future holds for this field, I'd love to see what you all have to say.