As I walk from class to class everyday I'm almost always cut off or bumped into by at least one person who is texting and walking. I'm all for sending a quick text as soon as I get out of class, but some people cannot walk without having their faces glued to their phones.  It might not seem like a bad idea to pick up your phone and make a few quick texts or catch some Pokémon (for those of you who are still into that) but it could be dangerous and it develops bad habits.
Phones are becoming more and more advanced which in turn has left people more reliant on them.  A study done by Ohio State University  shows that in 2010 there were over 1,500 people admitted into the emergency room for accidents due to walking distracted. The number of similar accidents were less than 300 in 2005. People who are looking at their phones while crossing the street won't even take a second to look for on coming traffic. A study conducted in Seattle, Washington observed over 1,000 people crossing a busy intersection throughout the day. The scientists results showed that pedestrians who were texting while walking were almost four times as likely to not look before crossing or disobey the cross walk signals. In another study  scientists made 28 participants walk 8.5 meters three separate times. The first would be at a normal pace with no distractions. In the second pass participants would read texts without replying, while in their third pass they would be required to text a short sentence and send it.  The results were what you would expect. The more distractions involved, the more crooked and slower they walked.
Some communities are beginning to fine people texting while walking, while others have come to the realization that it will remain in our society. In 2012 New Jersey police officers in Ft. Lee began writing $85 tickets to anyone they saw texting while walking across a road. On the other end of the spectrum the city of Chongqing , China has developed a designated walking lane for those inclined to text and walk. The texting lane has white arrows pointed on the ground so they can stay in line without having to look up.
It would be nice if people could put down their phones and walk but its not going to happen.  People's attachment to cell phones will continue to grow as technology advances. It will be interesting to see what approach the rest of the United States will take to keep texting pedestrians safe.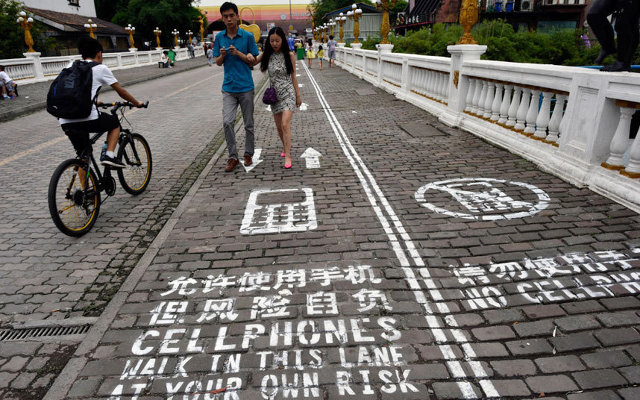 First picture: https://images.britcdn.com/wp-content/uploads/2014/03/Texting4.jpg
Second picture: https://www.bing.com/images/search?q=texting+while+walking+lane&view=detailv2&&id=6914CB90DF6465568C10D213F682206A59070D4E&selectedIndex=0&ccid=7KtbVdAb&simid=608037254231624057&thid=OIP.Mecab5b55d01b52154dce33f7e06b17e6o0&ajaxhist=0