I recently watched the movie, You Again and the part where the father eats blindfolded as a part of his diet really stuck with me. Does eating blindfolded actually prevent you from overeating? I mean there have been times where during dinner I would be eating and I would start to feel myself become full, but I still had food left on my plate so I would continue eating rather than stopping. If i had not known that food was there, would I still have wanted to continue eating?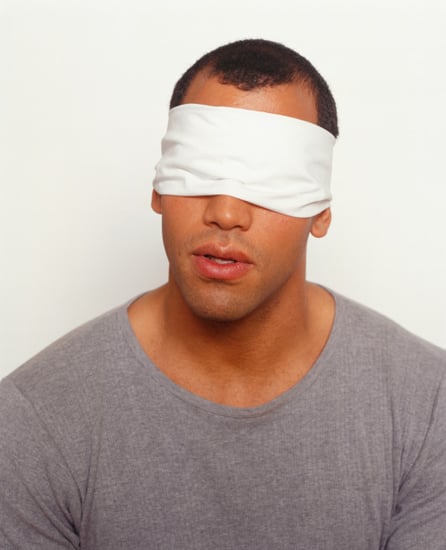 A husband and wife decided to do an experiment of their own. Every once in awhile one of them will blindfold themselves during dinner. Once they become full and feel finished, they take the blindfold off. This experiment resulted in them taking smaller portion sizes, paying attention to their body so they know when they are full,and making them feel less guilty when they do not finish all the food that was left on their plate.
Every time I have dieted or tried to eat healthier I always ended up giving up and forgetting about the diet altogether. This article talks about a study conducted in Germany that shows people who are blindfolded while they eat consume less calories than people who can see their food. Some people also stated that the food tasted differently when they could not see it. Spicy foods taste spicier, sweet foods taste sweeter, bland foods (such as bread or crackers) have more flavor. When you take away one of your senses, the rest become stronger. When you can not see your food, you don't feel the need to keep eating once you feel full and you can feel yourself become fuller more quickly since you are not focused on the food on your plate. 
According to Science Direct our behavior plays a role in determining how much food we consume. If you're stressed you eat, if you're happy you eat, if you're sad you eat, if you're bored you eat. Our bodies are used to eating even when we aren't hungry. This article also talks about an experiment where they used 90 students to study taste perception of ice cream and the amount of ice cream the students estimated they would eat. Some of the students were blind folded and some of them were not. Those that were blind folded ate 9% less than those who were not . The students that were blindfolded also predicted that they would consume 88% more ice cream than they actually did. The students that were not blind folded only predicted that they would consume 35% more ice cream than they actually did. The scientists concluded that they experiment turned out the way it did because for the students that were blind folded, they had no visual input. 
Next time you're eating, pay attention to other things besides just the food on your plate. Pay attention to your stomach, your head, even the way the food tastes. Experiment with yourself and blindfold yourself for a meal to see how much you are actually overeating.