Whether or not you want to admit it, almost all of us have cheated on a test or school related assignment at least once in our life. Cheating gets the best of all of us. Uncertainty, procrastination, nervousness, and simply not understanding the material are all big factors in why students cheat. To many kids, it's the easy way out. Why take drastically long periods out of your day to study and review notes when you can simply just copy information down from a friend? College withholds increasing amounts of cheating environments for students and it continues to be a problem today.
In a series of three articles, James M. Lang discusses the reasons for which why students are inclined to cheat and discusses various strategies in how to decrease cheating environments within the classroom.
To start off, Lang explores why students cheat in the first place. He references several experiments led by a behavioral researcher named Dan Ariely that were set up to see how humans would react in a cheating induced environment. At first Ariely hypothesized that demographics had a large role in why kids cheated, and he might be true, but he decided, instead to alter the environments in which students were to do the task on hand.  Ariely would split his sample size into sub groups and have them complete their task in different environments. Some of the environments made it easier for the students to cheat, while other settings made it more risky or stressful to cheat. The results were expected…the kids in the cheating encouraged environments scored better or were more efficient than the other groups. There's really no surprise to these experiments at all. Another way of putting it would be to put a group of students in a room with no supervision to complete their exam vs putting students in a room with proctors roaming and have them take the same test. Of course the kids with no supervision will score higher because the environment encourages them to do so. Arielly called this the "Fudge Factor," summing up that kids will consistently cheat at a higher pace when put in a less risk-filled situation.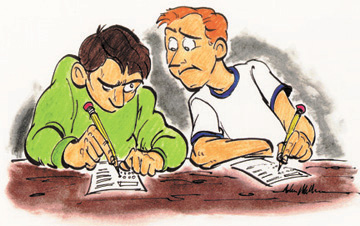 To continue his study, in his second article, Lang decides to research the demographics of cheating within different parts of the globe. Throughout this article, Lang explains a study led by George M. Diekhoff that explores the differences in cheating between college students in Texas and college students from Japan. In order for Diekhoff to compare the rates of cheating between these two cultures, he sent out surveys to a large group of students at each location with questions asking students to admit if they have been academically dishonest during their college careers. The results came out to be shocking as the Japanese students had 55% admit they cheated on at least one exam while 26% of the American students admitted to cheating. Rattled by these results, Diekhoff decided to further research the two learning environments and compare their differences. In the end it made total sense. Diekhoff found that most of the universities in Japan focused most of their grade on one final exam as opposed to multiple exams spread out throughout the course. No wonder these students were more inclined to cheat than the students from America. Having most of your course grade depend on one test is just insanity, I can't imagine having all that pressure fall into my lap and having to study the heck out of my course notes for something like that, anyone would feel more pressured to cheat in a situation like that. This occurrence brought a glimpse of light to Lang's study; the less pressured a student is within their studies, the less likely he/she will be to cheat. I can definitely relate to that statement. I feel like the more tests/quizzes I take throughout the course helps me realize where i'm at in the class. The situation lets me know as a student if I know the material or not, and helps guide me to the end goal. Homework, quizzes, and multiple tests help students learn the information they need to know so that in the end there will be no reason to cheat because the way the class is set up, you will have already been prepared.
In Lang's final article, he decides to read up on how cheating has changed throughout history. He looks at a study reported in 1963 that entails responses about cheating from over 100,000 college students across the United States. This study concluded with a rate of 75% of college students admitting to cheating. So with 75% of students perhaps cheating 50 years ago, Lang decides to research a similar study during a more recent date. He finds a report questioning students about their cheating habits from 2002-2010. This report shows that 60-70% of students admitted to cheating. Through history Lang and others concluded that not much has changed over history: cheating is still a problem. Noticing that the students weren't going to be the ones to correct themselves and fix the issue of cheating, Lang concluded that the teaching methods must change and put the emphasis on the teaching staff to do that.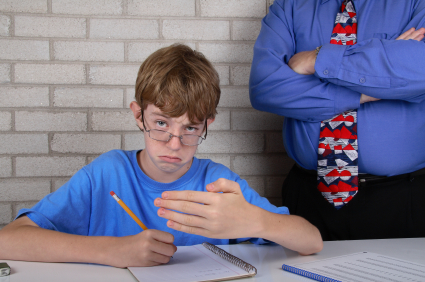 Cheating has been a problem and still continues to be a problem. In the end cheating does no good for a student, sure it might help you pass an exam that you thought you were screwed on, but in reality, you still don't know the material. You can't cheat your way through school, and if you do then life after college will be miserable because you will not have gained a sense of knowledge or character. Lang found that the way to eliminate cheating is to create an environment that makes it easier for the students to learn. Things like handing out quizzes before leaving each class will influence students to try to pay attention harder during class and formulate the concepts in their head. In fact, things that Andrew does within this very own class would tie well into Lang's conclusion. The fact that only our best blog period out of the three that we have is graded brings a sense of less pressure to do well on each one. This very concept helps to reduce the rate in cheating among students. All in all, if it is possible to stop cheating, this is the way to do it. The basics of cheating are simple, stopping it is the hard part.
http://www.chronicle.com/article/Cheating-Lessons-Part-1/139453
http://www.chronicle.com/article/Cheating-Lessons-Part-2/140113
http://www.chronicle.com/article/Cheating-Lessons-Part-3/141141/