Everyday, after getting only about 5 hours of sleep, I wake up and tell myself "I'm going to bed early tonight." Spoiler alert: I never end up going to bed early. So what usually happens is that I am so exhausted by the end of the week that I sleep for 10-11 hours on Friday and Saturday. I would wake up after getting 10 hours of sleep and still be tired. This made me question how I could get so much sleep and still wake up tired. Well there is a term for that, and the term for getting too much sleep is "oversleeping".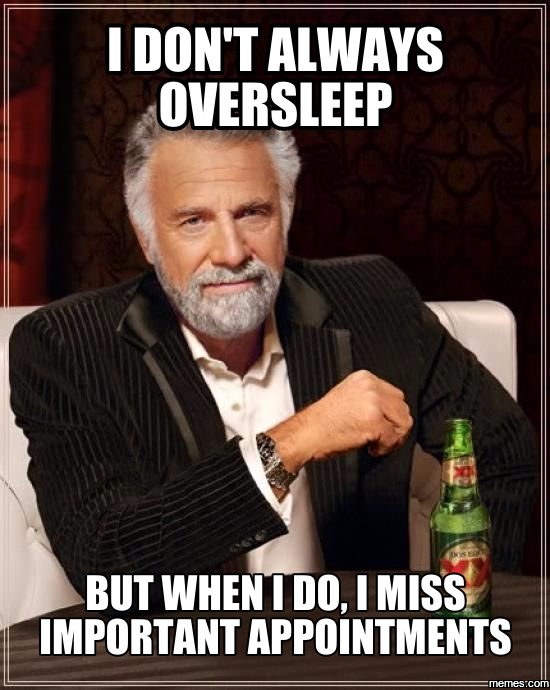 In my personal case, the question I thought to myself was "can oversleeping be causing unhealthy side effects?" From that question, I developed a null hypothesis and an alternative hypothesis. My null hypothesis is that oversleeping causes no adverse health effects. The alternative hypothesis is oversleeping does cause adverse health effects. After developing these hypotheses, I had to find the answer. I researched the topic and found that oversleeping can be detrimental to one's health.
Oversleeping is a real problem, especially among college students. Many students, like myself, sleep in very late on weekends to try to catch up on the sleep they missed throughout the week. Oversleeping can actually have adverse effects on a person's health.
During my research, I found that there are a multitude of side effects from over sleeping. This article from the Huffington Post describes a few of them. The main side effects are headaches, heart disease, and diabetes. The headaches are often caused from the internal clock of the body not matching the external environment. They can also be caused by the amount of dreaming and work your body is experiencing while you sleep. Heart disease has one of the scariest correlations with oversleeping. A study showed that the risk for heart disease increases by 38% in those who oversleep. Another frightening correlation is the one between oversleeping and diabetes. Its shown that those who oversleep have a 50% higher chance of having diabetes.
These correlations between over sleeping and side effects worry someone like me, but remember, they are just correlations. We know that correlation does not always equal causation. Oversleeping is not known to be a cause of heart disease and diabetes, it just has strong correlations to these side effects.These side effects are also based on people who oversleep daily. For someone who only oversleeps every so often, they probably will not be affected by the side effects. Even after doing this research, I will probably continue to oversleep at times. I will try to lower the amount of times I do it, but I like sleeping too much to stop oversleeping completely. In the end, just try to get the right amount of sleep every night, and you will most likely be much healthier and happier.
Sources: http://www.webmd.com/sleep-disorders/guide/physical-side-effects-oversleeping#1
http://www.healthguidance.org/entry/15581/1/Oversleeping-Side-Effects.html
http://www.huffingtonpost.com/2015/02/16/sleeping-too-much-health_n_6672274.html
http://www.headache-help.org/sleep-disorders-and-headache