Contrary to popular belief, most tea comes from the same plant. This obviously isn't the case for plant specific teas such as mint tea, chamomile tea, and chrysanthemum tea (actually, there are people who argue these aren't legitimate teas, just herbal infusions); however, common teas like black, white, oolong, and green all come from the Camellia sinensis plant. The Camellia sinensis is a shrub or small tree from which the leaves, leaf buds, and even stems can be used to make different teas.
The reason there can be so many tea varieties produced from a single plant lies in the fact that there are infinitely many ways you can change the production process, starting with the geographic location of the plant and when you pick the leaves. The location in which the tea plants are grown significantly varies the gustatory qualities—Darjeeling is grown from a cool and wet region in the foothills of the Himalayas and Wu-Long is grown on mountainous regions near the Tropic of Cancer in Taiwan (many high quality teas as grown at high elevations because it slows the growth of the plant allowing for more extended flavour development). The time during which the tea is picked matters as well—when picked in the early spring, tea is light and aromatic, while summer teas have a stronger bite with some bitterness, and autumn teas are of a lesser quality in terms of intensity in taste. Some of the rarest teas are so expensive because they are either grown in a very select and extremely small location, or are only picked at impeccably precise and limited windows (the green tea I carry around with me is picked extremely early in the budding process). For example, Da Hong Pao is grown in the Wuyi rock mountains of China, and is a dark oolong tea. Legend has it that a dowager empress of the Ming dynasty was cured of an illness by tea grown from bushes in these mountains, and six of those original bushes are (reportedly) still alive today. Tea produced from these bushes is valued even more highly than gold because of the rarity.
Once the leaves are picked, they are processed; processing is the second step during which teas can differentiate. Leaves are typically laid out to wither to reduce water content; green tea leaves are usually steamed or baked instead so the leaves remain green. Next, the tea leaves are rolled to not only shape the leaves, but break down cell structures to release aromatic oils and juices from the leaves. This ensures that the leaves oxidize more evenly in the next step, and helps create flavor.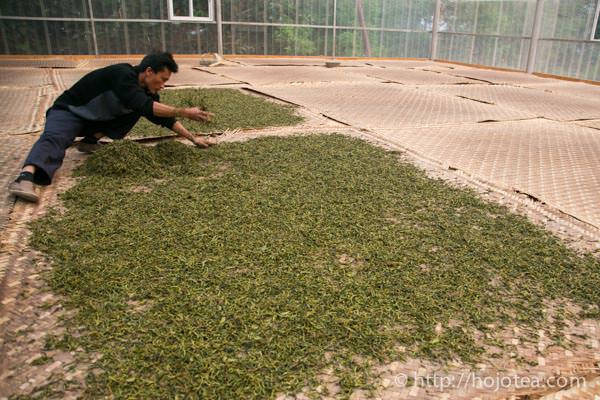 Then the leaves are oxidized; this is a chemical reaction in which oxygen combines with molecules in the tea leaves, it's similar to how metal rusts over time or how an apple turns brownish when left out. Put quite simply, the darker the color of tea leaves and tea, the more oxidized they have been. Thus, light teas like green tea and white tea experience very little oxidation while dark teas like black tea experience significant oxidation.
Finally, the tea is dried to stop the oxidation process and then packaged for consumption! I tend to drink loose leaf tea, but packaged teas (in little baggies or tea temples) go through additional processing. I hope this was an enlightening journey through the tea-making process; the next time you have a nice cup of tea you will know the basics of how it was made! In fact, if you are so intrigued that you'd like to try your hand at making your own tea, you can look into buying your own tea plants as well. Thanks for reading; come back next time to keep exploring the world of tea!
Works Cited
http://www.samovartea.com/how-tea-is-made/
http://www.camforest.com/Camellia_sinensis_s/34.htm
http://keys.lucidcentral.org/keys/v3/eafrinet/weeds/key/weeds/Media/Html/images/Camellia_sinensis__(Tea_Plant)/camellia_sinensis_01.jpg
http://www.photomazza.com/IMG/jpg_La_Camellia_sinensis_puo_raggiungere_i_12_m_d_altezza_ma_viene_coltivata_bassa_c_Giuseppe_Mazza.jpg
https://www.teavivre.com/media/wysiwyg/da_hong_pao.jpg
http://www.royalandtea.com/img/intro-pic.jpg
http://hojotea.com/en/wp-content/uploads/2013/05/IMG_1737.jpg