If you somewhat dislike running and cycling yet grudgingly recognize the importance of cardio like me, you might want to check this class out. Power Remix, one of the most popular classes on campus, is a high-intensity dance cardio class, which mixes elements of dance and aerobics to keep you jumping, dancing, and moving for the full 45 minutes. I never truly thought of dance as cardio, but this class got me sweating and breathing hard within minutes of doing my first awkward shoulder shimmy. The best part is that Power Remix is so fun that I didn't even realize I was getting a good workout until after four songs had gone by and I looked in the mirror to find myself sweat faced and worn out. Since running has never been my favorite source of cardio, this class really got me excited to engage in new ways to get my blood pumping.
I have never done dance before and I'm relatively uncoordinated when it comes to complex body movements, so this class was a challenge for me. An interesting tidbit to note is that the instructor doesn't talk at all during the class. For all the other classes I've attended, the instructor has a microphone and will talk you through the movements, explain when to switch sides, and encourage everyone to keep holding/pulsing/lifting/going/etc. when things get tough. On the other hand, the power remix instructor didn't have a microphone and led the class by dancing through everything herself. We all faced the mirror and danced together, and the instructor would use various hand motions to indicate what the next move was supposed to be. For example, holding up two fingers meant to repeat the current movement twice while rolling her fists meant to shimmy around in a circle. It took some getting used to, and there were some weird body roll/turn things that I just couldn't get the hang of, but most of the movements are repeated in enough of a pattern that I mastered many of the movements as the song progressed. If you've danced before, enjoy dancing, or are pretty coordinated, I think you would be awesome at this class. If you're like me and you're none of the above, I would still recommend the class because it's a fun, non-intimidating, and lively way to fit some cardio into your workout regimes.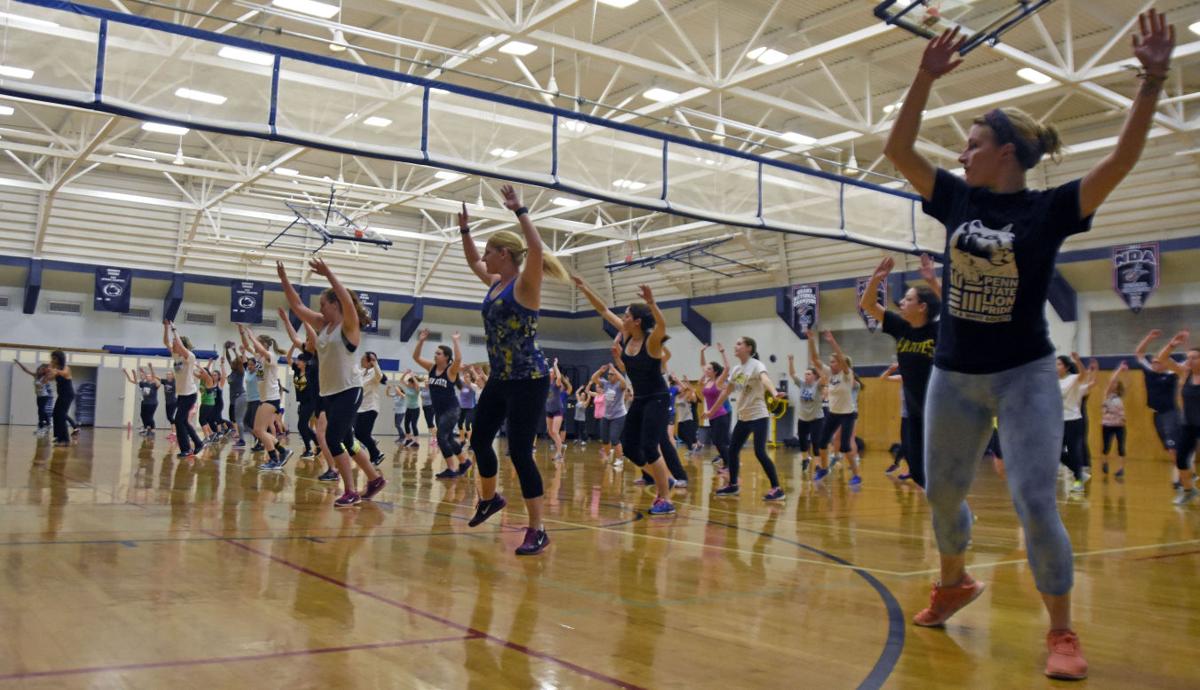 Overall, the class has a playlist of around ten songs that play back-to-back without pause. Each song has different characteristic movements, and some songs target specific parts of the body. For example, one of the songs I did featured several squat/lunge combination moves similar to what I would do in a Butts and Guts class. If you want to get an idea of what this class would be like, check out this Youtube video from Penn State Fitness. The instructors actually take you through the routine to "Juice Box" by Pitbull, which is one of the songs included in the workout I did.
Although I felt a little bit like Mindy Kaling in the gif below, I am definitely going to attend this class again. Even though I was a bit uncoordinated sometimes, the environment is stress free, lively, and enjoyable (and you still get a killer workout).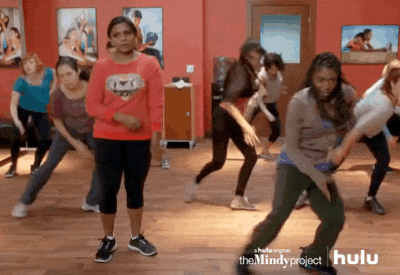 Image Links:
http://onwardstate.com/wp-content/uploads/2016/02/Power-Remix-11.jpg
http://bloximages.newyork1.vip.townnews.com/collegian.psu.edu/content/tncms/assets/v3/editorial/b/0e/b0e44ec4-d063-11e5-9b3a-932a2437434c/56bbec05460f3.image.jpg?resize=1200%2C690
https://media.giphy.com/media/26uf68LgjAMAj2a9a/giphy . gif