---
Dr. Janis Terpenny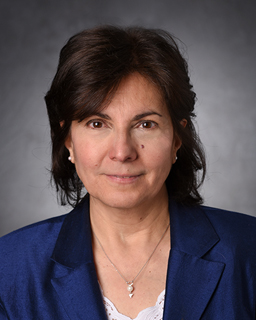 Janis Terpenny is the Peter & Angela Dal Pezzo Chair & Department Head of the Harold & Inge Marcus Department of Industrial & Manufacturing Engineering at Penn State University. She is also the director of the Center for e-Design, an NSF industry/university cooperative research center (I/UCRC) that brings 7 universities and 30+ industrial members together in solving pressing problems associated with the design, manufacture, delivery and sustainment of innovative, high quality, lower cost products. Dr. Terpenny's research interests are focused on engineering design and has included topics such as process and methods of early design; knowledge and information in design; product families and platforms; obsolescence in products and systems; complexity of products and systems; and cloud computing for design and manufacturing integration. She has also investigated topics in design education such as multidisciplinary teams; the impacts of project choice and context on engagement and learning; and the retention and success of underrepresented students. Industry and community partnerships are key to the impact of her research and teaching. Prior to joining Penn State, Dr. Terpenny served as the department chair and Joseph Walkup Professor of Industrial and Manufacturing Systems Engineering at Iowa State University (ISU). She also served as the technology lead for the Advanced Manufacturing Enterprise (AME) area for one of the nation's first manufacturing institutes (NNMIs), the Digital Manufacturing and Design Innovation Institute (DMDII). She has also served as a program director at the National Science Foundation (NSF) and been a professor at Virginia Tech and at the University of Massachusetts Amherst. She has 9 years of industry work experience with the General Electric Company (GE), including the completion of a 2-year corporate management program. Throughout her career, she has served as PI or co-PI on over $14 million of sponsored research and is the author of 165 peer-reviewed journal and conference publications. She is a Fellow of IIE, a Fellow of ASME, and a member of ASEE, INFORMS, Alpha Pi Mu, and Tau Beta Pi. She serves as an associate editor for the Engineering Economist. She has received numerous awards for excellence in teaching, in research, and for service.
---
Ph.D. Students
Amol Kulkarni

Email: apk5322@psu.edu
Amol Kulkarni received his B.E. in Industrial and Production Engineering from Sri Jayachamarajendra College of Engineering under Visvesvaraya Technological University (VTU), and M.S in Industrial and Manufacturing Engineering from Penn State University. He is currently a Ph.D. student in the Harold & Inge Marcus Department of Industrial and Manufacturing Engineering at Penn State University. His research interests include the application of Machine learning algorithms to the fields of Marketing and Supply Chain Engineering, Decision Theory and Process Optimization.
Yupeng Wei

Email: yxw218@psu.edu
Yupeng Wei received his B.S. in industrial engineering from Beijing Institute of Technology and M.S. in industrial and systems engineering from the University of Florida. Currently, he is a Ph.D. student in student in the Harold & Inge Marcus Department of Industrial and Manufacturing Engineering at Penn State University and a research assistant at the Smart Design and Manufacturing Systems Lab. His research interests focus on optimization, data mining and machine learning in the application of processing monitoring.
---
Masters Students
---
Undergraduate Researchers
Lei Zhang
---
Lab Alumni
Postdoctoral Research Associates
Jaiel Park, PhD Penn State University, 2005-06
Rahul Rai, PhD University of Texas at Austin, 2006-07
Nihal Orfi, PhD Virginia Tech, 2012-13
Liyu Zheng, PhD Virginia Tech, 2012-13
Dazhong Wu, PhD Georgia Institute of Technology, 2014-17 (Website)
Doctoral Students
Jiachuan Wang, Industrial Engineering, UMass, August 2004
Asli Sahin, Industrial & Systems Engineering, Virginia Tech, December 2007
Xiaomeng Chang, Industrial & Systems Engineering, Virginia Tech, May 2008
Craig Josias, Industrial Engineering, University of Massachusetts, January 2009
Yanfeng Li, Industrial & Systems Engineering, Virginia Tech, February 2010
Tracee Gilbert, Industrial & Systems Engineering, Virginia Tech, December 2010
Nihal Orfi, Industrial & Systems Engineering, Virginia Tech, December 2011
Liyu Zheng, Industrial & Systems Engineering, Virginia Tech, December 2011
Connor Jennings, Industrial & Manufacturing Systems Engineering, Penn State, December 2018 (website)
Zvikomborero Matenga, Industrial & Manufacturing Systems Engineering, Penn State, August 2019
Masters Students
Harpreet Singh , Industrial Engineering, UMass, August 2000
Kimberly Sward, Industrial Engineering, UMass, February 2002
Jianyong Chen, Industrial Engineering, UMass, May 2002
Akshaye Sikand, Industrial Engineering, UMass, February 2003
Maria Benson, Mechanical Engineering, UMass, May 2003
Deepu Mathew, Industrial Engineering, UMass, May 2004
Julia Sullivan, Industrial & Systems Engineering, Virginia Tech, Dec 2004
Anand Srinivasan, Industrial Engineering, UMass, February 2005
Abhisar Verma, Industrial Engineering, UMass, May 2005
Asli Sahin, Industrial & Systems Engineering, Virginia Tech, December 2005
Xiaomeng Chang, Industrial & Systems Engineering, Virginia Tech, May 2007
Yanfeng Li, Industrial & Systems Engineering, Virginia Tech, May 2008
Rajkamal Kesharwani, Industrial & Systems Engineering, Virginia Tech, Dec 2008
Ni Hu, Industrial & Systems Engineering, Virginia Tech, December 2009
Yash Sharma, Industrial & Systems Engineering, Virginia Tech, December 2009
Lynette Wilcox, Industrial & Systems Engineering, Virginia Tech, May 2010
Mohit Mujumdar, Industrial & Systems Engineering, Virginia Tech, December 2010
Liyu Zheng, Industrial & Systems Engineering, Virginia Tech, December 2010
Pratik Pingle, Industrial Engineering, Iowa State, August 2015
Connor Jennings, Industrial Engineering, Iowa State, December 2015
Amol Kulkarni, Industrial Engineering, Penn State University , May 2017
Undergraduates
Jiajun Chen, Industrial Engineering, Penn State, May 2016
Anqi Ren, Industrial Engineering, Penn State, May 2017 (M.S. Cornell)