According to the 2010 Census, about 22% of our nation's 5.2 million First Nation Native Americans live on federally run reservations, which have living conditions so poor that they have been often compared to that of low-income countries. Unemployment, poverty, and the mental and physical health risks that are results of such instability exist at astronomically high rates compared to the rest of the United States. Furthermore, rates of crime, suicide and depression also follow this pattern of disparity at an alarmingly high rate.
Unemployment runs rampant on reservations, and typically, tribal and federal governments are the largest employers. With most households being overcrowded and earning only social security, disability, or veteran's income, the scarcity of jobs and lack of economic opportunity on the reservations lead to 40-80% of adults being unemployed depending on the reservation. Moreover, of the few employed, many earn wages that put them under the poverty line. Overall, about 28.2% of Native American individuals in the United States live below the poverty line, but for those living on reservations the percentage ranges from 38-63%. More often than not, there are few resources to fill the gap of needs that goes unmet, leading many to be unable to afford basic necessities. The lack of job opportunity in legitimate sectors also often leads to a influx of crime, as there is no alternative to provide for one's self or one's family.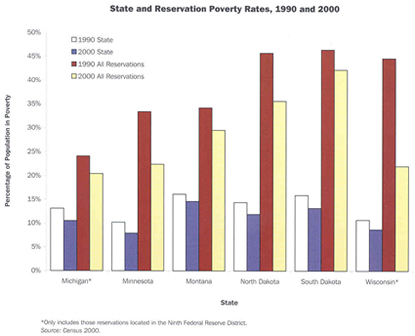 Unemployment and poverty without assistance can only lead to even poorer conditions, and this is true for housing especially. Despite the Indian Housing Authority's recent efforts, the need for adequate housing on reservation remains in a state of crisis. Nearly 30% of reservation housing is overcrowded with multiple generations of a family living in one cramped home, and less than half of it is connected to a public sewer. As of 2004, there were approximately 90,000 homeless or underhoused Native American families, and that number has only increased since then. Moreover, approximately 40% of reservation housing is considered inadequate by the United States Commission on Civil Rights without proper plumbing, kitchen facilities, cooling and heating, running water, telephones, and electricity.
Because of inadequate funding and resources, the average life expectancy for a Native American individual is five to ten years less than their non-Native counterparts due to many alarming health issues. For example, according to research done by the Center for Disease Control, Native Americans are 177% more likely to die from diabetes, 500% more likely to die from tuberculosis, 52% more likely to die from pneumonia or influenza, and 280% more likely to die from accident-related injuries than non-Natives. Furthermore, infant mortality is 60% higher than that of the average American, and Native Americans are 770% more likely to suffer and die from alcoholism and the subsequent health issues. Even worse, Native Americans living on reservations are 82-190% more likely to successfully attempt suicide, with the rate dependent on the reservation but generally 1.5 times the average rate of the non-Native United States population.
The reasons for the increased rates of depression and suicide are not just correlated with the maltreatment and neglect of reservations by the federal government but also stem from the historical maltreatment and abuse of Native Americans by the federal government. In the documentary posted below, The Canary Effect, it is said that when the government began their policy of forced removal of Native American children via the Indian Removal Act, it broke the spirit of the Native American family, and the government's lack of assistance and subjugation of current Native Americans has not done anything to repair that void.